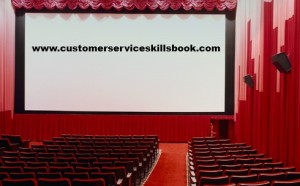 Appropriate Service Recovery Strategies
Can Lead To Customer Satisfaction and Retention
Delivering excellent customer service should be the goal of every customer service representative and organization. Unfortunately, when things do not go as planned and customer service breakdowns occur, customer needs wants and expectations are often not met. Obviously, this is when customer satisfaction and customer retention become an issue to be addressed immediately and in a positive manner.
The following is a personal experience that my wife and I encountered yesterday when we went to a movie theatre that we visit frequently.
We went to see a movie yesterday and within 30 minutes of the start of the film it was dragging – the sound and picture were not synced. On the positive side, an employee (not the manager) came in three times to update the packed theatre. On the downside though, he explained that they had been having trouble like this all day with this movie. To that comment, someone yelled, "Then why do you keep selling tickets to other groups?" A valid question to which the employee responded that "We thought it would stop."
They finally canceled the show and gave rainchecks. The employee even went on to tell us the next showing was at 7:15…as if we would stick around to try again.
Of course, as a customer service author, trainer, and consultant, all of this did not sit with me since my wife and I had already consumed $14.00 in snacks and drove 20 minutes to get there. So, I went to see the manager. Unfortunately, he was busy in the projection booth trying to fix the computer, so I gave his supervisor my card and told who I was and what I do. I then explained that this incident and the way it had been handled was contrary to service recovery strategies offered by excellent organizations. I further pointed out that by giving us a rain check, they only gave us an opportunity to return and spend even more time and money for snacks (an obvious win for them). I suggested that true service recovery is designed to "make the customer whole" and compensate them for their inconvenience.
Since the supervisor had just arrived at work and was not sure what exactly happened, I explained the situation. He then asked for our original ticket stubs and in exchange gave us our money back. He also and let us keep the rainchecks. Finally, service recovery had occurred. Too bad it took me asking for it to get satisfaction. That was good for us, but all the other people in a packed theatre did not get this and some probably left dissatisfied.
I suggested that he give the manager my business card and tell him what I'd shared about service recovery. Hopefully, I will not have to test their system again and the staff will receive training on effective service recovery should they ever need it in the future.
If you are looking for ideas on effective service and how to provide service recovery when things go wrong with your customers, get a copy of my book, Customer Service Skills for Success.
About Robert C. Lucas
Bob Lucas has been a trainer, presenter, customer service expert, and adult educator for over four decades. He has written hundreds of articles on training, writing, self-publishing, and workplace learning skills and issues. He is also an award-winning author who has written thirty-seven books on topics such as, writing, relationships, customer service, brain-based learning, and creative training strategies, interpersonal communication, diversity, and supervisory skills. Additionally, he has contributed articles, chapters, and activities to eighteen compilation books. Bob retired from the U.S. Marine Corps in 1991 after twenty-two years of active and reserve service.