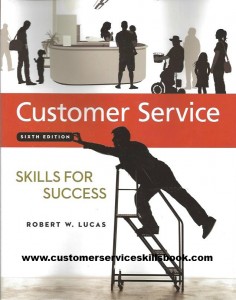 Benefits of Customer Relationship Management
When organizations attain a high degree of brand recognition and a reputation for providing quality products and services at a competitive price while going above and beyond their customers' expectations, they are typically rewarded with customer loyalty and repeat and referral business.
According to a J.D. Powers and Associates North American Hotel Guest Satisfaction Index Study, "The highest-performing hotel brands differentiate themselves by meeting customer expectations consistently, whether it's a guest's first stay with the brand or they're fiftieth. . . . By setting and maintaining high brand standards, hotels build a reputation for reliability, which breeds customer loyalty."
Extracted from Customer Service Skills for Success by Robert W. Lucas, McGraw-Hill Higher Education, 2015.
About Robert C. Lucas – Award-Winning Author
Bob Lucas has been a trainer, presenter, customer service expert, and adult educator for over four decades. He has written hundreds of articles on training, writing, self-publishing, and workplace learning skills and issues. He is also an award-winning author who has written thirty-seven books on topics such as, writing, relationships, customer service, brain-based learning, and creative training strategies, interpersonal communication, diversity, and supervisory skills. Additionally, he has contributed articles, chapters, and activities to eighteen compilation books. Bob retired from the U.S. Marine Corps in 1991 after twenty-two years of active and reserve service.