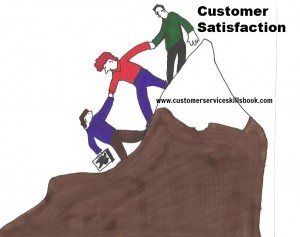 While it is the job of any customer service representative to provide a high level of customer satisfaction, each person in the organization has an equal responsibility for creating a customer-centric environment. This is crucial because delivering excellent customer service through the use of effective customer service skills is a key element of developing sound customer relations and building customer loyalty.
Unless customer service is driven from the top of the organization, those on the front line do not have the guidance or feeling of support needed to succeed. They will not be able to deliver the information, services and products desired by current and potential customer to meet their individual needs, wants and expectations. When management  provides the basic tools needed by employees (e.g. customer service skills training, product and service knowledge, interpersonal skills training, and an understanding of the organization's mission and vision), they have an improved chance of success in their efforts to help customers.
IF you are looking for more ideas, strategies and techniques for satisfying your customers, get copies of my books, How to Be a Great Call Center Representative, Please Every Customer: Delivering Stellar Customer Service Across Cultures and Customer Service Skills for Success.