Many organizations struggle to gain and maintain strong customer and brand loyalty. However, what they often fail to do right is to create a service culture that nurtures and supports customers.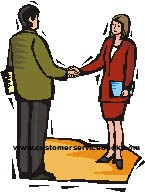 The following are some common characteristics for leading-edge customer-focused organizations that you might use to help create a positive customer service culture in your own organization.
They have and support internal customers (for example, peers, co-workers, bosses, subordinates, people from other areas of their organization) and/or external customers (for example, vendors, suppliers, various telephone callers, walk-in customers, other organizations, others not from within the organization).
Their focus is on determining and meeting the needs, wants and expectations of customers while treating everyone with respect and as if he or she is special.
Information, products, and services are easily accessible by customers.
Policies are in place to allow employees to make decisions in order to better serve customers.
Management and systems support and appropriately reward employee efforts to serve customers.
Reevaluation and quantitative measurement of the way business is conducted is ongoing and results in necessary changes and upgrades to deliver timely quality service to the customer.
Continual benchmarking or comparison with competitors and related organizations helps maintain an acute awareness and implementation of best service practices by the organization.
The latest technology is used to connect with and provide service to customers, vendors, or suppliers and to support business operations.
They build relationships through customer relationship management (CRM) programs.
For additional ideas and strategies for building a strong service culture, get a copy of Customer Service Skills for Success.