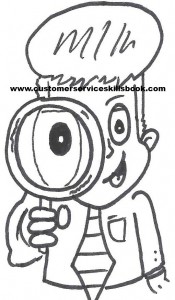 Customer Service Quote – The Value of Dissatisfied Customers
Customers who are unhappy or dissatisfied can be a real challenge for many customer service representatives. They require additional time and effort to appease, they can create a public display, and they can also affect organizational and service provider satisfaction ratings by sharing their story with others.
On the other hand, you might want to view your dissatisfied customers as an opportunity to learn what is not working in the organization or with your approach to customer service. Often, we get so tied up in the day-to-day process and procedural "stuff" which we have to do, that we forget that our primary purpose for being there in the first place is to provide the best possible customer service to those with whom we come into contact.
By stepping back to examine why our customer was dissatisfied in the first place, we can potentially identify policies, product defects, service breakdowns and other potential problem areas that could cause more problems in the future. We can then brainstorm with our supervisor and peers to find potential solutions to these issues. This provides the opportunity to go from poor customer service to excellent customer service.
Bill Gates of Microsoft summed up this concept:
"Your most unhappy customers are your greatest source of learning." 
For strategies and techniques on how to deliver positive, effective service to your customers, get a copy of Customer Service Skills for Success.