The face of higher education is continuing to evolve. Ethnicity, the numbers of attendees in terms of age and sex, expectations, the manner in which information is delivered and virtually every aspect of the way you do business and education has been touched in some way by events over which you sometimes have no control.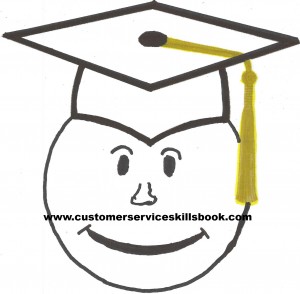 Things such as world events, the economy, changing technology, competition from new sources, and the values of learners shift rapidly. The potential student population is also expected to grow in coming years as Generation Yers (Millennials – 1980s to early 2000s) are aging, since this is the largest generation behind the Boomers (1946-1964).
The one aspect of the whole process over which you and your organization do have control  — is the level and quality of service that you and your institution provide to your customers – your students.
To deal with this trend…
If you remember nothing else related to customer service, think about this. EVERYONE that you and your institution come into contact is either a customer or potential customer! If you can get your mind around that fact and treat students and their caregivers with the best quality of service possible; then, you have tremendous opportunity to compete effectively with all other institutions of higher learning and knowledge sources.
This action alone can lead to customer loyalty and positive word-of-mouth publicity for you as an educator and your institution.
For information, ideas and strategies on how to deliver excellent customer service get copies of Customer Service Skills for Success and Please Every Customer: Delivering Stellar Customer Service Across Cultures.