By better understanding yourself and why you behave the way that you do when interacting with customers and other people, you can work toward building stronger relationships in the future. This is especially true when interacting with customers and potential customers. The point is that the more you know about people, the better  prepared you are to deliver excellent service, meet customer wants, needs and expectations, provide satisfaction and aid customer and brand loyalty.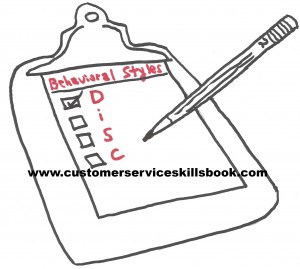 One way to achieve better self-awareness is to use commercially available self-assessment surveys (questionnaires) that are available online or through consultants who specialize in their use. By attending training sessions that use and help explain these instruments you can be a more rounded individual personally. You can also start to recognize the behavioral traits that you display in others. In doing so, you can start to tailor your actions and reactions to other people in different situations in order to help mold a more positive situational outcome. This is especially true when there is emotion or negative energy involved displayed on either person's part during a customer-provider interaction.
Two popular commercially available surveys or questionnaires include:
For more ideas on how to improve relationships with customers and how to apply knowledge of behavioral styles for building stronger customer-provided relationships, get a copy of Customer Service Skills for Success (Chapter 6).