You may think of difficult customer contacts as those in which you have to deal with negative, angry, demanding, or aggressive people. These are just a few of the types of potentially difficult interactions that you may encounter as a customer service representative.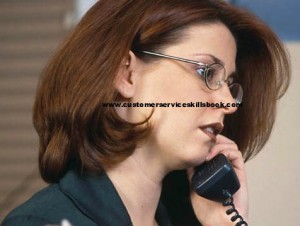 From time to time, you will also be called upon to help customers who can be described in one or more of the following ways:
Are dissatisfied with your service or products.
Are indecisive or lack knowledge about your product, service, or policies.
Are rude or inconsiderate of others.
Are talkative.
Are internal customers with special requests.
Speak a primary language other than yours.
Are elderly and need extra assistance.
Are young and inexperienced who might need to be guided in making a good choice.
Have some type of a disability.
Each of the above categories can be difficult to handle, depending on your knowledge, experience, abilities and organizational policies. A key to successfully serving all types of customers is to treat each person as an individual. If you stereotype people, you will likely damage the customer–provider relationship and might even generate complaints to your supervisor or legal action against you and your organization based on perceived discrimination. Avoid labeling people according to their behavior. Do not mentally categorize people (put them into groups) according to the way they speak, act, or look—and then treat everyone in a "group" the same way.
Ultimately, you will deliver successful service through your effective communication skills, positive attitude, patience, knowledge, service experience, and willingness to help the customer. Your ability to focus on the situation or problem and not on the person will be a very important factor in your success. Making the distinction between the person and the problem is especially important when you are faced with difficult situations in the service environment. Although you may not understand or approve of a person's behavior, he or she is still your customer. Try to make the interaction a positive one, and if necessary ask for assistance from a co-worker or refer the problem to an appropriate level in your operational chain of command.
For ideas and strategies on how to deal with a variety of different customers and  customer situations, get copies of Customer Service Skills for Success, Please Every Customer: Delivering Stellar Customer Service Across Cultures and How to be a Great Call Center Representative.