Dealing with Difficult Customers
You may think of difficult customer contacts as those in which you have to deal with negative, angry, demanding, or aggressive people. These are just a few of the types of potentially difficult interactions that you may encounter as a customer service representative.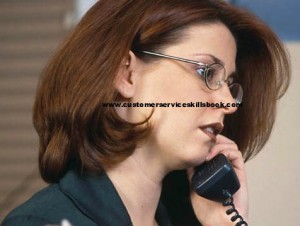 From time to time, you will also be called upon to help customers who can be described in one or more of the following ways:
Are dissatisfied with your service or products.
Are indecisive or lack knowledge about your product, service, or policies.
Are you rude or inconsiderate of others?
Are talkative.
Are internal customers with special requests.
Speak a primary language other than yours.
Are you elderly and need extra assistance.
Are young and inexperienced who might need to be guided in making a good choice.
Have some type of disability.
Each of the above categories can be difficult to handle, depending on your knowledge, experience, abilities and organizational policies. A key to successfully serving all types of customers is to treat each person as an individual. If you stereotype people, you will likely damage the customer-provider relationship and might even generate complaints to your supervisor or legal action against you and your organization based on perceived discrimination. Avoid labeling people according to their behavior. Do not mentally categorize people (put them into groups) according to the way they speak, act, or look—and then treat everyone in a "group" the same way.
Ultimately, you will deliver successful service through your effective communication skills, positive attitude, patience, knowledge, service experience, and willingness to help the customer. Your ability to focus on the situation or problem and not on the person will be a very important factor in your success. Making the distinction between the person and the problem is especially important when you are faced with difficult situations in the service environment. Although you may not understand or approve of a person's behavior, he or she is still your customer. Try to make the interaction a positive one, and if necessary ask for assistance from a co-worker or refer the problem to an appropriate level in your operational chain of command.
For ideas and strategies on how to deal with a variety of different customers and customer situations, get copies of Customer Service Skills for Success, Please Every Customer: Delivering Stellar Customer Service Across Cultures and How to Be a Great Call Center Representative.
About Robert C. Lucas
Bob Lucas has been a trainer, presenter, customer service expert, and adult educator for over four decades. He has written hundreds of articles on training, writing, self-publishing, and workplace learning skills and issues. He is also an award-winning author who has written thirty-seven books on topics such as, writing, relationships, customer service, brain-based learning, and creative training strategies, interpersonal communication, diversity, and supervisory skills. Additionally, he has contributed articles, chapters, and activities to eighteen compilation books. Bob retired from the U.S. Marine Corps in 1991 after twenty-two years of active and reserve service.
Make Money Writing Books: Proven Profit Making Strategies for Authors by Robert W. Lucas at Amazon.com.
The key to successfully making money as an author and/or self-publisher is to brand yourself and your company and to make yourself and your book(s) a household name. Part of this is face-to-face interaction with people at trade shows, library events, book readings, book store signings, blogging or guest blogging on a topic related to their book(s). Another strategy involves writing articles and other materials that show up online and are found when people search for a given topic related to a topic about which the author has written.
If you need help building an author platform, branding yourself and your book(s) or generating recognition for what you do, Make Money Writing Books will help. Bob's popular book addresses a multitude of ideas and strategies that you can use to help sell more books and create residual and passive income streams. The tips outlined in the book are focused to help authors but apply to virtually any professional trying to increase personal and product recognition and visibility.