Each customer is unique, yet similar. The challenge is to identify their specific needs, wants and expectations and them work hard to meet and exceed those.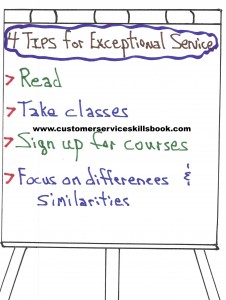 The following tips can help you provide better service to all your customers:
To aid you in your quest for providing the best possible customer service, read whatever positive information you can get your hands on related to customer service.
Take classes on how to interact and communicate with a variety of different categories of diverse people (e.g. older/younger, differing genders, culturally diverse, and  differently-abled).
Sign up for courses in psychology, sociology, and interpersonal communication. These are invaluable for providing a basis of understanding why people act as they do and how to more effectively interact with them in various environments.
During your studies, focus on issues of differences and similarities between men and women, cultural diversity, behavioral styles, and any other topic that will expand and round out your knowledge of people.
By going out of your way to enhance your customer service knowledge and skills and improve customer service, you can effectively impact brand and customer loyalty for your organization.
For more ideas on how to create  customer-centric environment where customers enjoy coming to visit you and the organization, read Customer Service Skills for Success and Please Every Customer: Delivering Stellar Customer Service Across Cultures.