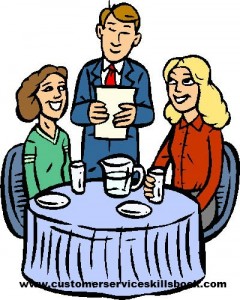 Many servers in the restaurant and hospitality industries and well, as customer service professionals in general, are underpaid and often overworked. This is unfortunate because, like many customer service representatives who work for minimum wage or less, they often do not make enough to pay for basic essentials.
It is for that reason that a recent story by Lauren Tuck of the Shine Staff put the spotlight on why it is important to provide superior customer service, and on customers who appreciate great service and are willing to open their hearts and bank accounts to help out deserving employees. Tuck's blog article highlights how the generosity of one customer was touched by a deserving server's financial plight and took action to make her life better.
The example highlighted in the article also serves as a great example for others in the service industry who may go to work disgruntled and as a result deliver marginal or sub-standard service to their customers. Quite simply by following basic rules of positive service, they can make a customer service experience one that is not only appreciates, but also rewarded generously.
For ideas and techniques that can be used to develop excellent customer service skills and deliver superior customer service, get copies of Customer Service Skills for Success and Please Every Customer: Designing Stellar Customer Service Across Cultures.