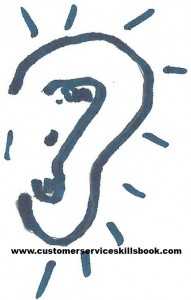 Effective listening skills are crucial in building and maintaining relationships with other people, especially in a customer service environment. Unfortunately, it is a skill that many people do not learn or practice well.
To improve your ability to effectively and accurately receive information and messages from others, take some time to attend training programs on how to listen better. It will be money well spent and like any other skill, the more you work at it, the better you likely will become at using it.
Before attending training, verify the accuracy of your perception about your own listening effectiveness. To do so, ask several friends, family members and people in your workplace, who know your listening abilities well, to rate you. Have them use the scale of Outstanding, Above Average, Average, Poor, and Ineffective. Once they rate you, have them provide hints on how to improve you effectiveness. These submissions or ratings could be done anonymously in order to get more candid feedback. Once you get the information, objectively analyze it and then incorporate it into your listening improvement action plan, as necessary.
For more tips on how to improve your ability to effectively communicate and interact with customers in a variety of situations, get copies of Customer Service Skills for Success, Please Every Customer: Delivering Stellar Customer Service Across Cultures and How to be a Great Call Center Representative.