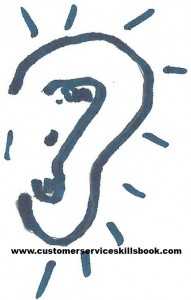 Improving Your Listening Ability Can Aid Customer Service
Effective listening skills are crucial in building and maintaining relationships with other people, especially in a customer service environment. Unfortunately, it is a skill that many people do not learn or practice well.
To improve your ability to effectively and accurately receive information and messages from others, take some time to attend training programs on how to listen better. It will be money well spent and like any other skill, the more you work at it, the better you likely will become at using it.
Before attending training, verify the accuracy of your perception about your own listening effectiveness. To do so, ask several friends, family members and people in your workplace, who know your listening abilities well, to rate you. Have them use the scale of Outstanding, Above Average, Average, Poor, and Ineffective. Once they rate you, have them provide hints on how to improve your effectiveness. These submissions or ratings could be done anonymously in order to get more candid feedback. Once you get the information, objectively analyze it and then incorporate it into your listening improvement action plan, as necessary.
For more tips on how to improve your ability to effectively communicate and interact with customers in a variety of situations, get copies of Customer Service Skills for Success, Please Every Customer: Delivering Stellar Customer Service Across Cultures and How to Be a Great Call Center Representative.
About Robert C. Lucas
Bob Lucas has been a trainer, presenter, customer service expert, and adult educator for over four decades. He has written hundreds of articles on training, writing, self-publishing, and workplace learning skills and issues. He is also an award-winning author who has written thirty-seven books on topics such as, writing, relationships, customer service, brain-based learning, and creative training strategies, interpersonal communication, diversity, and supervisory skills. Additionally, he has contributed articles, chapters, and activities to eighteen compilation books. Bob retired from the U.S. Marine Corps in 1991 after twenty-two years of active and reserve service.
Make Money Writing Books: Proven Profit Making Strategies for Authors by Robert W. Lucas at Amazon.com.
The key to successfully making money as an author and/or self-publisher is to brand yourself and your company and to make yourself and your book(s) a household name. Part of this is face-to-face interaction with people at trade shows, library events, book readings, book store signings, blogging or guest blogging on a topic related to their book(s). Another strategy involves writing articles and other materials that show up online and are found when people search for a given topic related to a topic about which the author has written.
If you need help building an author platform, branding yourself and your book(s) or generating recognition for what you do, Make Money Writing Books will help. Bob's popular book addresses a multitude of ideas and strategies that you can use to help sell more books and create residual and passive income streams. The tips outlined in the book are focused to help authors but apply to virtually any professional trying to increase personal and product recognition and visibility.