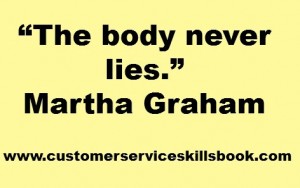 Nonverbal Communication for Customer Service Representatives
One of the key skills that customer service representatives must master is the art of sending and receiving nonverbal messages effectively. The likelihood of building positive interpersonal relationships with customers increases significantly when you master the ability to accurately understand facial expressions, gestures, eye contact, and other bodily movements.
Who was Martha Graham?
Martha Graham (May 11, 1894 – April 1, 1991) was an American modern dancer and choreographer. Her style, the Graham technique, reshaped American dance and is still taught worldwide.
Graham danced and taught for over seventy years. She was the first dancer to perform at the White House, travel abroad as a cultural ambassador, and receive the highest civilian award of the US: the Presidential Medal of Freedom with Distinction. In her lifetime she received honors ranging from the Key to the City of Paris to Japan's Imperial Order of the Precious Crown. She said, in the 1994 documentary The Dancer Revealed, "I have spent all my life with dance and being a dancer. It's permitting life to use you in a very intense way. Sometimes it is not pleasant. Sometimes it is fearful. But nevertheless, it is inevitable."
Famous Martha Graham Quotes:
Dance is the hidden language of the soul of the body.
Great dancers are not great because of their technique, they are great because of their passion.
The body says what words cannot.
No artist is ahead of his time. He is his time; it is just that others are behind the times.
Dance is a song of the body. Either of joy or pain.
The body is a sacred garment.
The only sin is mediocrity.
'Age' is the acceptance of a term of years. But maturity is the glory of years.
Think of the magic of that foot, comparatively small, upon which your whole weight rests. It's a miracle, and the dance is a celebration of that miracle.
The body is shaped, disciplined, honored, and in time, trusted.
For more ideas on how nonverbal communication can increase your effectiveness in dealing with current and potential customers and how to build those skills explore these resources.
About Robert C. Lucas
Bob Lucas has been a trainer, presenter, customer service expert, and adult educator for over four decades. He has written hundreds of articles on training, writing, self-publishing, and workplace learning skills and issues. He is also an award-winning author who has written thirty-seven books on topics such as, writing, relationships, customer service, brain-based learning, and creative training strategies, interpersonal communication, diversity, and supervisory skills. Additionally, he has contributed articles, chapters, and activities to eighteen compilation books. Bob retired from the U.S. Marine Corps in 1991 after twenty-two years of active and reserve service.