Quote on Delivering the Best Customer Service Possible – Jeff Bezos
Customers are a funny lot… they pay you money that they worked hard for and in exchange only expect to receive what they need, want, expect and are promised by you and your organization.  They truly do not expect that, when they contact you or someone else in your organization, they will encounter problems with the product and services received.
To help ensure that you meet their expectations, put yourself in their position and deliver the best possible customer service. Ensure that you have the knowledge, skills, and attitude that will provide you the tools necessary to effectively interact and communicate with them to determine what you need to do to satisfy them and help build customer and brand loyalty.
Jeff Bezos, founder of Amazon.com summed this sentiment up in a quote:
"The best customer service is if the customer doesn't need to call you, doesn't need to talk to you. It just works." Jeff Bezos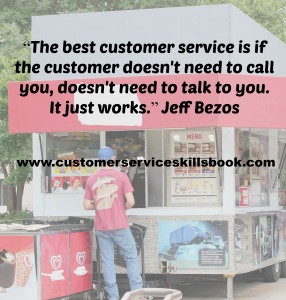 For ideas and strategies for delivering exceptional customer service to all potential and current customers get copies of Customer Service Skills for Success, Please Every Customer: Delivering Stellar Customer Service Across Cultures, and How to Be A Great Call Center Representative.
Here are a few more Jeff Bezos quotes to enjoy reading…
"I believe you have to be willing to be misunderstood if you're going to innovate."
"If you're competitor-focused, you have to wait until there is a competitor doing something. Being customer-focused allows you to be more pioneering."
"What's dangerous is not to evolve."
"Part of company culture is path-dependent – it's the lessons you learn along the way." – Jeff Bezos
"My own view is that every company requires a long-term view."
"We've had three big ideas at Amazon that we've stuck with for 18 years, and they're the reason we're successful: Put the customer first. Invent. And be patient."
"A company shouldn't get addicted to being shiny, because shiny doesn't last."
"The best customer service is if the customer doesn't need to call you, doesn't need to talk to you. It just works."
"There'll always be serendipity involved in the discovery."
"I strongly believe that missionaries make better products. They care more. For a missionary, it's not just about the business. There has to be a business, and the business has to make sense, but that's not why you do it. You do it because you have something meaningful that motivates you." – Jeff Bezos
"The thing that motivates me is a very common form of motivation. And that is, with other folks counting on me, it's so easy to be motivated."
"Life's too short to hang out with people who aren't resourceful."
"If you don't understand the details of your business you are going to fail."
"The common question that gets asked in business is, 'why?' That's a good question, but an equally valid question is, 'why not?'"
"We expect all our businesses to have a positive impact on our top and bottom lines. Profitability is very important to us or we wouldn't be in this business." – Jeff Bezos
"The human brain is an incredible pattern-matching machine."
"We are stubborn on vision. We are flexible on details…"
"It's not an experiment if you know it's going to work."
"Your margin is my opportunity." – Jeff Bezos
"We see our customers as invited guests to a party, and we are the hosts. It's our job every day to make every important aspect of the customer experience a little bit better."
"Work Hard, have fun, make history."
"You don't want to negotiate the price of simple things you buy every day."
"If you never want to be criticized, for goodness' sake don't do anything new."
"A brand for a company is like a reputation for a person. You earn reputation by trying to do hard things well."
"Maintain a firm grasp of the obvious at all times." – Jeff Bezos
"If you do build a great experience, customers tell each other about that. Word of mouth is very powerful." – Jeff Bezos
About Robert C. Lucas, Your Customer Service Guru that is a big fan of Jeff Bezos
Bob Lucas has been a trainer, presenter, customer service expert, and adult educator for over four decades. He has written hundreds of articles on training, writing, self-publishing, and workplace learning skills and issues. He is also an award-winning author who has written thirty-seven books on topics such as, writing, relationships, customer service, brain-based learning, and creative training strategies, interpersonal communication, diversity, and supervisory skills.
Additionally, he has contributed articles, chapters, and activities to eighteen compilation books. Bob retired from the U.S. Marine Corps in 1991 after twenty-two years of active and reserve service.
Bob Lucas B.S., M.A., M.A, CPLP is the principal in Robert W. Lucas Enterprises, Inc and an internationally-known author; learning and performance professionals. He has written and contributed to numerous books on the subject of customer service skill training.
He regularly conducts workshops on creative training, train-the-trainer, customer service, interpersonal communication, and management,
and supervisory skills.