Customers are a funny lot… they pay you money that they worked hard for and in exchange only expect to receive what they need, want, expect and are promised by you and your organization.  They truly do not expect that, when they contact you or someone else in your organization, they will encounter problems with the product and services received.
To help ensure that you meet their expectations, put yourself in their position and deliver the best possible customer service. Ensure that you have the knowledge, skills and attitude that will provide you the tools necessary to effectively interact and communicate with them to determine what you need to do to satisfy them and help build customer and brand loyalty.
Jeff Bezos, founder of Amazon.com summed this sentiment up in a quote: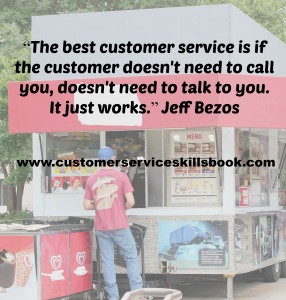 For ideas and strategies for delivering exceptional customer service to all potential and current customers get copies of Customer Service Skills for Success, Please Every Customer: Delivering Stellar Customer Service Across Cultures, and How to Be A Great Call Center Representative.