Managing conflict with customers involves more than just resolving the disagreement. If you fail to address the emotional and psychological needs of those involved, you may find the conflict returning, repercussions and/or severe damage to the customer-provider relationship may occur. Often poorly handled service recovery efforts result in such things as complaints to a service provider's supervisor, complaints to consumer agencies, bad word-of-mouth publicity and lost customers.
Depending on the severity of the conflict and how you handle it at each step of the resolution process, it may be impossible to go back to the relationship as it was before the disagreement. The key to reducing this possibility is to identify and address conflicting issues as early as possible. The longer an issue remains unresolved, the more damage it can cause. Make the effort to help protect and salvage the relationship between you and your customers.
Often, customers are rational once they can get past their need for emotional ownership of the situation. If you can apply some basic emotion-reducing communication strategies (e.g. empathize, agree with the customer, lower your volume and monitor your voice tone) the situation may become more manageable. Just remember that your customers are human jut like you and human behavior is sometimes volatile. Allow them to vent and calm down, then focus on recovering and rebuilding the relationship. The following strategies can assist in your service recovery efforts: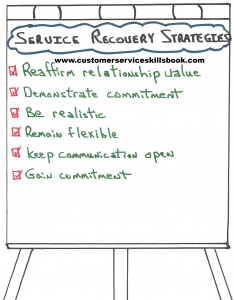 Reaffirm the value of the relationship. You cannot assume that customers feel the same as you or understand your intent unless you communicate it. Apologize sincerely and tell them how much you value the relationship between them and the organization. Also stress that your goal is to assist them in whatever manner possible.
Customers typically tell others about the bad experiences they have. The result is that damage can be done to  your organization's reputation. This is a strong reason for you to do whatever you can to resolve the issue and appease your customer
Demonstrate commitment. You must visualize and demonstrate your desire to continue or strengthen your relationship. The way to do this with customers is through sound interpersonal communication efforts (e.g. active listening, empathy, and positive verbal and non-verbal message). Once you have smoothed things over a bit emotionally with the customer, take definitive action to positively address the service or product breakdown. If that means involving a co-worker or supervisor, then do that.
Be realistic. Because of cultural, gender, generational and behavioral style differences, it is difficult for some people to "forgive and forget." You have to systematically help restore their trust. It can take a while to accomplish this, but the effort is well worth it. Take the time to follow-up with your customer following a recovery initiative. Send a card, discount or gift certificate, or take some other proactive measure to show them that you are truly sorry for the breakdown in communication and that you are willing to work to regain their trust.
Remain flexible. A solid customer-provider relationship involves the ability to give and take. It is especially crucial that you and the other people involved make concessions following conflict. Avoid any references to policy or organizational standard procedure. If you cannot meet a customer's complete desires or demands, work toward a compromise and offer possible alternatives.
Keep communication open. One of the biggest causes of conflict and destroyed relationships is poor communication. Service breakdowns usually result in escalated emotions on both sides. Step back mentally and take a deep breath before saying anything
that you might regret or that could further frustrate or even anger your
customer. Be willing to compromise and let the customer take the lead in the
discussion, if that appears to help calm them and allows you time to work
towards an agreeable solution.
Gain commitment. You cannot do it all by yourself. Get a commitment to work toward reconciliation from your customer.
Also, once they have relaxed a bit and seem to be more receptive to listening to your suggestions, reaffirm that you have acted in a manner to resolve the issue to their satisfaction and let them know that you goal is to help them as best you can. Then ask that they let you know in the future if any service or product, that you and your organization provides, does not meet their needs or expectations so that you can immediately try to rectify the situation.
Monitor progress. Do not assume that, because the conflict or problem was resolved, it will remain that way. Deep-seated issues often resurface, especially when commitment was not obtained. Be sure to do follow-up with the customer shortly afterwards to ensure that a spark is not rekindled into a blazing fire in their mind. Statistically, a large percentage of customers who desert to a competitor do so without letting you know why.