Strategies for Improving Your Service Culture
In the past, organizations were continually making changes to their product and service lines to try to attract and hold customers. Often this has been their primary approach to customer satisfaction.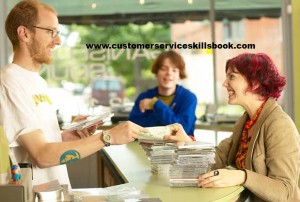 Many major organizations have become more customer-centric and stress long-term relationships with customers. They realize that it is cheaper, and smarter, to retain current customers, rather than subscribe to a revolving door approach of continually trying to attract new customers to replace the ones that they lost to competitors. Their goal is to continually try to enhance their service culture and the perception that current and potential customers have of their organization. Advertising campaigns often reflect this new awareness as companies try to communicate that they are more focused on their customers.
The following are some familiar slogans used by companies in their promotional materials:
"You can do it; We can help" – Home Depot

"Like a good neighbor"—State Farm Insurance
"When you're here, you're family"—Olive Garden Restaurants
"You're in good hands"—Allstate Insurance Company
"It's your store"—Albertsons Grocery Stores
"What can Brown Do for You?" – United Parcel Service (UPS)
"We'll leave the light on for you." Motel 6
"Think what we can do for you." Bank of America
To do your part in better serving customers in your organization, take a look at the slogans above and ask yourself the following questions in order to help improve your service levels:
What am I currently doing to provide the same level of quality service that these companies are espousing?
What am I currently doing that I could do better when serving my customers?
What am I currently doing that is potentially detracting from customer perceptions of service?
Based on answers to these questions, develop an action plan for improvement and strive to develop customer-focused behaviors and deliver the best possible customer service in the future.
For additional ideas on how to improve your customer service skills, get copies of Customer Service: Skills for Success and How to Be  Great Call Center Representative.
About Your Customer Service Skills Expert – Robert C. Lucas
Bob Lucas has been a trainer, presenter, customer service expert, and adult educator for over four decades. He has written hundreds of articles on training, writing, self-publishing, and workplace learning skills and issues. He is also an award-winning author who has written thirty-seven books on topics such as, writing, relationships, customer service, brain-based learning, and creative training strategies, interpersonal communication, diversity, and supervisory skills. Additionally, he has contributed articles, chapters, and activities to eighteen compilation books. Bob retired from the U.S. Marine Corps in 1991 after twenty-two years of active and reserve service.
Make Money Writing Books: Proven Profit Making Strategies for Authors by Robert W. Lucas at Amazon.com.
The key to successfully making money as an author and/or self-publisher is to brand yourself and your company and to make yourself and your book(s) a household name. Part of this is face-to-face interaction with people at trade shows, library events, book readings, book store signings, blogging or guest blogging on a topic related to their book(s). Another strategy involves writing articles and other materials that show up online and are found when people search for a given topic related to a topic about which the author has written.
If you need help building an author platform, branding yourself and your book(s) or generating recognition for what you do, Make Money Writing Books will help. Bob's popular book addresses a multitude of ideas and strategies that you can use to help sell more books and create residual and passive income streams. The tips outlined in the book are focused to help authors but apply to virtually any professional trying to increase personal and product recognition and visibility.
In my book Customer Service Skills for Success, I define customer service as "the ability of knowledgeable, capable, and enthusiastic employees to deliver products and services to their internal and external customers in a manner that satisfies identified and unidentified needs and ultimately results in positive word-of-mouth publicity and return business."