Many customers typically like the comfort of know that they can depend on a service provide to provide timely, accurate and professional service whether it is face-to-face, over the telephone or via other technology.
As you work with customers, do so positively and assertively and take the following actions in order to help put them at ease and to build a strong customer-provider relationship.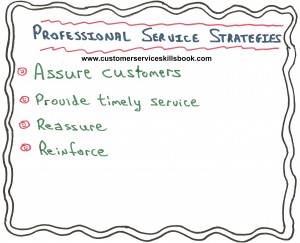 Assure them. Do this through your words and actions to show that you are confident, have their best interests at heart-and are in control of the situation.
Provide timely service. Let them know that their calls/messages, questions, needs, and issues will be addressed professionally and in a timely manner.
Reassure them. Let them know that what they purchase is the best quality, has a solid warranty, will be backed by the organization, and will address their needs while providing many benefits.
Reinforce them. Ensure that they understand that their requests and data will be processed rapidly and promises will be kept.
All of these things can lead them to the belief that they made the right decision in selecting you and your organization and that you will take care of their needs.