The Customer Is Always Right Quote – Stew Leonard
"Rule 1: The customer is always right.
Rule 2: If the customer is ever wrong, re-read Rule 1."
 – Stew Leonard, CEO of Stew Leonard's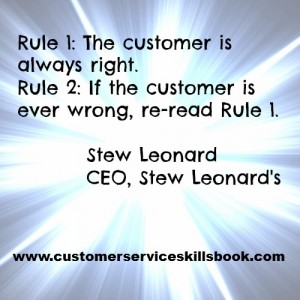 Who is Stew Leonard and why is he so important?
Stew Leonard started a small dairy store founded in 1969 in Norwalk, Connecticut. He started with just seven employees, since then, Stew Leonard's has grown to become not only the World's Largest Dairy Store. This is due to his customer service skills and his strategy in building a good business model. Now, many decades later it has become one of the most renowned grocery stores, with annual sales of almost $500 million and more than 2,500 Employees.
Okay, so it clear to see that Stew Leonard's is a grocery store chain. It has as of this writing, seven supermarkets in Connecticut, New York, and New Jersey. Stew Leonard's grocery store chain now includes six stores in Connecticut and New York. The newest location opened the fall of 2019 on September 18, in Paramus, NJ.
Many people don't know that Ripley's Believe It or Not! deemed "The World's Largest Dairy" vs. so many other retail chains that simply self-proclaim themselves the largest of something.  Also, the company was featured in Fortune magazine. It was listed as one of the "100 Best Companies to Work For".
Unfortunately, Stew Leonard Sr. also made some mistakes in business as well.  Stew Leonard, Sr. was convicted of having committed tax fraud via an elaborate scheme to divert more than $17.1 million in cash register receipts over a 10-year period in 1993. The fraud, which involved a computer program designed to skim off sales, was directed by Stew Leonard, Sr., in concert with the company's Chief Financial Officer and a company's Store Manager.
The skim worked as such, the money was placed in bundles then it was moved offshore. In June of 1991, Stew Leonard, Sr. was caught carrying $80,000 in cash while he was traveling to the island of Saint Martin. He pled guilty and was sentenced to 52 months in prison. In June 1997, he was released early for good behavior, thus he only served 44 months of his sentence.
Learn about Your Blogger and Award-Winning Author – Robert C. Lucas
Bob Lucas has been a trainer, presenter, customer service expert, and adult educator for over four decades. He has written hundreds of articles on training, writing, self-publishing, and workplace learning skills and issues. He is also an award-winning author who has written thirty-seven books on topics such as, writing, relationships, customer service, brain-based learning, and creative training strategies, interpersonal communication, diversity, and supervisory skills. Additionally, he has contributed articles, chapters, and activities to eighteen compilation books. Bob retired from the U.S. Marine Corps in 1991 after twenty-two years of active and reserve service.
Make Money Writing Books: Proven Profit Making Strategies for Authors by Robert W. Lucas at Amazon.com.
The key to successfully making money as an author and/or self-publisher is to brand yourself and your company and to make yourself and your book(s) a household name. Part of this is face-to-face interaction with people at trade shows, library events, book readings, book store signings, blogging or guest blogging on a topic related to their book(s). Another strategy involves writing articles and other materials that show up online and are found when people search for a given topic related to a topic about which the author has written.
If you need help building an author platform, branding yourself and your book(s) or generating recognition for what you do, Make Money Writing Books will help. Bob's popular book addresses a multitude of ideas and strategies that you can use to help sell more books and create residual and passive income streams. The tips outlined in the book are focused to help authors but apply to virtually any professional trying to increase personal and product recognition and visibility.
In my book Customer Service Skills for Success, I define customer service as "the ability of knowledgeable, capable, and enthusiastic employees to deliver products and services to their internal and external customers in a manner that satisfies identified and unidentified needs and ultimately results in positive word-of-mouth publicity and return business."