Customer Service Communication Quote – Henry Ford
"If there is any one secret of success it lies in the ability
to get the other person's point of view
and see things from that person's angle
as well as from your own." – Henry Ford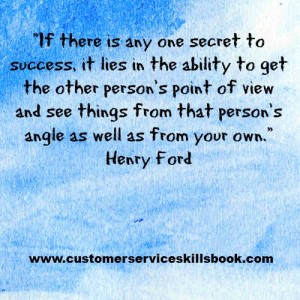 Here are a few more amazing quotes by Henry Ford…
There is no man living that can not do more than he thinks he can.
You can't build a reputation on what you are going to do.
I cannot discover anyone knows enough to say definitely what is and what is not possible.
An idealist is a person who helps other people to be prosperous.
Whatever you have, you must either use or lose. – Henry Ford
If money is your hope for independence you will never have it. The only real security that a man will have in this world is a reserve of knowledge, experience, and ability.
There is joy in work. There is no happiness except in the realization that we have accomplished something.
As we advance in life we learn the limits of our abilities.
You can't learn in school what the world is going to do next year. – Henry Ford
Anyone who stops learning is old, whether at twenty or eighty. Anyone who keeps learning stays young. The greatest thing in life is to keep your mind young.
If you think you can do a thing or think you can't do a thing, you're right.
Competition is the keen cutting edge of business, always shaving away at costs.
I do not believe a man can ever leave his business. He ought to think of it by day and dream of it by night. – Henry Ford
Quality means doing it right when no one is looking. – Henry Ford Quote
Speculation is only a word covering the making of money out of the manipulation of prices, instead of supplying goods and services.
A market is never saturated with a good product, but it is very quickly saturated with a bad one.
A business that makes nothing but money is a poor business.
A business absolutely devoted to service will have only one worry about profits. They will be embarrassingly large.
Nothing is particularly hard if you divide it into small jobs.
I am looking for a lot of men who have an infinite capacity to not know what can't be done.
There are no big problems, there are just a lot of little ones. – Henry Ford 
Most people spend more time and energy going around problems than in trying to solve them.
Time and money spent in helping men to do more for themselves are far better than mere giving.
Before everything else, getting ready is the secret of success.
Don't find fault, find a remedy. – Henry Ford
Even a mistake may turn out to be the one thing necessary to a worthwhile achievement.
Obstacles are those frightful things you see when you take your eyes off your goal.
Failure is simply the opportunity you see to begin again, this time more intelligently.
Learn All About Robert C. 'Bob' Lucas Now a
Understand Why He is an Authority in the Customer Service Skills Industry
Robert C. 'Bob' Lucas has been a trainer, presenter, customer service expert, and adult educator for over four decades. He has written hundreds of articles on training, writing, self-publishing, and workplace learning skills and issues. He is also an award-winning author who has written thirty-seven books on topics such as, writing, relationships, customer service, brain-based learning, and creative training strategies, interpersonal communication, diversity, and supervisory skills. Additionally, he has contributed articles, chapters, and activities to eighteen compilation books. Bob retired from the U.S. Marine Corps in 1991 after twenty-two years of active and reserve service.
Make Money Writing Books: Proven Profit Making Strategies for Authors by Robert W. Lucas at Amazon.com.
The key to successfully making money as an author and/or self-publisher is to brand yourself and your company and to make yourself and your book(s) a household name. Part of this is face-to-face interaction with people at trade shows, library events, book readings, book store signings, blogging or guest blogging on a topic related to their book(s). Another strategy involves writing articles and other materials that show up online and are found when people search for a given topic related to a topic about which the author has written.
If you need help building an author platform, branding yourself and your book(s) or generating recognition for what you do, Make Money Writing Books will help. Bob's popular book addresses a multitude of ideas and strategies that you can use to help sell more books and create residual and passive income streams. The tips outlined in the book are focused to help authors but apply to virtually any professional trying to increase personal and product recognition and visibility.
In my book Customer Service Skills for Success, I define customer service as "the ability of knowledgeable, capable, and enthusiastic employees to deliver products and services to their internal and external customers in a manner that satisfies identified and unidentified needs and ultimately results in positive word-of-mouth publicity and return business."