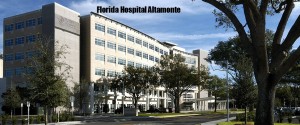 Florida Hospital Altamonte – A Positive Approach to Customer Service
As I often do in my books, articles, and blog, I like to share positive customer service examples like the one I am currently experiencing this weekend as a patient at the Florida Hospital in Altamonte Springs, Florida. It is always nice to encounter a positive, customer-centric organization where people really seem to strive to deliver excellent customer service and go out of their way to show that they do care about what they are doing, especially in potentially life or death situations.
Customer service in the healthcare business
I am always inspired by positive examples of customer service wherever I travel locally and away from home. That is because, too often, my service experiences are negative and sometimes lead to emotional confrontations. As a service provider and customer service author, the frustrating part of such experiences for me is that it does not have to be that way. My philosophy is that if you are not happy and do not like your job…QUIT! Why make your life and that of those with whom you come into contact miserable.
Hospitals are places for healing, compassion and sometimes death. No one WANTS to go to a hospital as a patient nor, in many instances, as a visitor. The latter reminds people of their own frailty and the fact they too may someday be a patient. Unfortunately, because in times of pain and heightened emergencies people often fail to recognize or acknowledge the degree of dedication and concern offered by the people who make hospitals work. These servants of mercy and concern work tirelessly for as many as twelve hours or more a day in an attempt to help comfort and heal the sick and injured.
After witnessing what happens at Florida Hospital – Altamonte Springs, first-hand as a patient and second-hand with members of my family have been cared for here,  I am impressed by the level of attention and devotion the entire staff seems to provide. From the frontline staff, such as Brittany (receptionist/check-in), Geneve, Mercia, and Maritza (nurses), and Ritchie and Nikki (Techs) there is an obvious attempt to meet the needs of each patient. Then there are the wonderful folks who work behind the scenes, such as, Linda (leadership team) Allie (housekeeping), Drake (food services), and Jonathan (housekeeping Intern) who help create an atmosphere of service that permeates the organization and makes the patient (customer) experience one that meets their wants and expectations.
Going above and beyond expectations
As you can see by the departmental titles, the organization has borrowed those names and practices from the hospitality industry that help a more professional and customer-friendly place to visit. Florida Hospital even has a Concierge Services group that can assist with things like sending flowers, arranging for car detailing, organizing spa services, getting hotel discounts for family and friends of patients, and much more. Not what one would typically expect at a house of healing.
The basis for quality customer service
In my forty years of experience in various types of service organizations, I have come to realize that the manner in which employees approach customers is typically driven from the decision-makers at the top of the echelon, It then filters down through directives, policies, procedures and customer service skills training. This is obviously true for Florida Hospital Altamonte. In speaking to numerous employees, they are enthusiastic about what they do and the organization and supportive of the management directives.
Florida Hospital – Altamonte is a great example for other organizations (especially healthcare) to model after in order to deliver the best customer service possible.
For ideas and strategies on how you and your organization can acquire the skills similar to those exhibited by the Florida Hospital staff and help create a more customer-centric organization, get a copy of Customer Service Skills for Success.
About Robert C. Lucas
Bob Lucas has been a trainer, presenter, customer service expert, and adult educator for over four decades. He has written hundreds of articles on training, writing, self-publishing, and workplace learning skills and issues. He is also an award-winning author who has written thirty-seven books on topics such as, writing, relationships, customer service, brain-based learning, and creative training strategies, interpersonal communication, diversity, and supervisory skills. Additionally, he has contributed articles, chapters, and activities to eighteen compilation books. Bob retired from the U.S. Marine Corps in 1991 after twenty-two years of active and reserve service.
Make Money Writing Books: Proven Profit Making Strategies for Authors by Robert W. Lucas at Amazon.com.
The key to successfully making money as an author and/or self-publisher is to brand yourself and your company and to make yourself and your book(s) a household name. Part of this is face-to-face interaction with people at trade shows, library events, book readings, book store signings, blogging or guest blogging on a topic related to their book(s). Another strategy involves writing articles and other materials that show up online and are found when people search for a given topic related to a topic about which the author has written.
If you need help building an author platform, branding yourself and your book(s) or generating recognition for what you do, Make Money Writing Books will help. Bob's popular book addresses a multitude of ideas and strategies that you can use to help sell more books and create residual and passive income streams. The tips outlined in the book are focused to help authors but apply to virtually any professional trying to increase personal and product recognition and visibility.