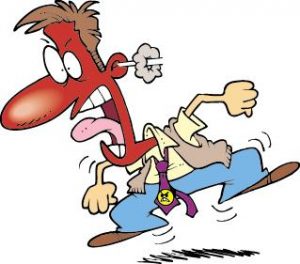 Handling Angry Customers
There seem to be a number of issues that are driving the anger that many customers display when dealing with customer service representatives these days. Contributing factors might include the economy, displeasure with government, unemployment, perceived poor service in general and many other challenges facing society. The reality is that, as a customer service representative, you cannot solve these problems or resolve all of your customer's concerns. However, what you can do is to control the approach that you take when handling angry customers.
Dealing with disgruntled people requires a certain amount of caution, especially in a time when so many people are becoming violent in response to what they perceive as issues beyond their control. For effectively handling angry customers, you must first help the customer move beyond the emotions of the moment. You can then potentially discover the reason for their anger or frustration.
Before dealing with customers in general, check with your supervisor to find out what your organization's policies are. Also, determine your level of authority for making decisions related to problem resolution. Having this information before a customer encounter provides the tools and knowledge you need to better handle your customers effectively and professionally.
The following are customer service skills and strategies that you can use when handling angry customers during service breakdowns.
Be positive. Tell the customer what you can do rather than what you cannot do.
Remain objective. Remember, angry customers, are usually frustrated with the organization, product, or service that you represent, not at you.
Acknowledge the customer's feelings of anger. By taking this approach, you've acknowledged the customer's feelings, demonstrated a willingness to assist, and asked the customer to participate in solving the problem.
Reassure the customer. Indicate that you understand why he or she is angry and that you will work with them to resolve the issues.
Listen actively to determine the cause of their anger. Who is "right" or "wrong" makes no difference when handling angry customers. Actively listening and trying to discover the true issue will assure the customer that you are trying to take care of it for him or her. 
Avoid language that might inflame the situation. Negative words such as problem, no, can't and you (directed at the person and indicating that they did or did not do something they should have) can be like throwing gasoline on the fire when dealing with an emotionally charged person.
Negotiate an acceptable solution. Elicit ideas or negotiate an alternative with your customer. Ask open-ended questions that make the customer feel that they are in charge of the situation and have some power. For example, "What do you feel would be an acceptable solution to this matter?" Remember that, with some exceptions, most people are typically reasonable and not out to take advantage of the situation when they feel that you are truly acting in their best interest. They just want to be "made whole" again. In other words, they want what they were promised or paid for and to be compensated for their inconvenience.
Conduct a follow-up. If possible, follow-up as soon as you can with the customer. Don't assume that the organization's system will work as designed or that the customer was completely satisfied. By taking this extra step, you are recognizing the customer as an important person to you and the organization and letting them know that you really are working with them to resolve their issue(s). This can go a long way towards getting the customer to generate positive word-of-mouth publicity.
There is no guarantee that these strategies will always work when handling angry customers. However, they provide some basic communication skills and service strategies for helping customer service representatives create a positive outcome in a negative situation. This can ultimately contribute to enhanced customer satisfaction and brand loyalty.