Inspirational Customer Service Quote – Larry Winget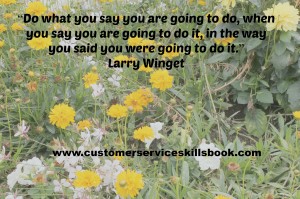 Here are a few more quotes from Larry Winget…
I don't have any interest in taking care of people. My interest is in teaching people to take care of themselves.
Everything in life is a lesson. Refusing to learn the lesson means that it will be repeated until the lesson is learned.
I love when people cry. It shows me that they finally have attached emotion to their stupidity. When you finally, finally, finally feel bad to cry about it, then that shows me that maybe you just might care.
Training is expensive. Books are expensive. Going to seminars is expensive. Being stupid is even more expensive.
If your life sucks, it's because you suck.
When people tell you how honest they are, keep your hand on your wallet.
Let me make this clear: There are no secrets. None. There is no new information. What it took to be successful a thousand years ago is exactly what it takes to be successful today.
It's better to have a good divorce than a bad marriage.
Three main reasons people are not successful: They are stupid. They are lazy. They don't give a damn.
If you are unhappy, unsuccessful, sick, or broke – please just keep it to yourself. The rest of us don't want or need to hear about it, so don't feel compelled to share!
The problem with "self-help" is that there is way too much help and not enough self.
The number one, most important, get-this-or-fail short lesson for both work and business: Do what you say you are going to do, when you said you were going to do it, in the way you said you were going to do it.
Nobody ever wrote down a plan to be broke, fat, lazy or stupid. Those are the things that happen when you don't have a plan.
Stress comes from knowing what is right and doing what is wrong.
People change when they want to change; not when you want them to change.
People don't like what I have to say because I promise hard work is the key to changing your life. Hard work is never going to sell like a positive attitude is going to sell, but it will get you a lot farther.
Do you want to know a quick way for finding out if someone knows more than you do? Look at their results. Results never lie.
Being healthy is a choice.
Do you have people in your life who have "done you wrong?" If you are like most people, then you do. Are you harboring anger, resentment, and hard feelings toward them? Let it go. Forgive them. Not because they deserve it – because they honestly may not. But do it because you deserve it.
Want to be more successful? Stop doing the things that keep you from being successful.
Create the life you want to have by living by design and not by default.
About Robert C. Lucas
Bob Lucas has been a trainer, presenter, customer service expert, and adult educator for over four decades. He has written hundreds of articles on training, writing, self-publishing, and workplace learning skills and issues. He is also an award-winning author who has written thirty-seven books on topics such as, writing, relationships, customer service, brain-based learning, and creative training strategies, interpersonal communication, diversity, and supervisory skills. Additionally, he has contributed articles, chapters, and activities to eighteen compilation books. Bob retired from the U.S. Marine Corps in 1991 after twenty-two years of active and reserve service.
Make Money Writing Books: Proven Profit Making Strategies for Authors by Robert W. Lucas at Amazon.com.
The key to successfully making money as an author and/or self-publisher is to brand yourself and your company and to make yourself and your book(s) a household name. Part of this is face-to-face interaction with people at trade shows, library events, book readings, book store signings, blogging or guest blogging on a topic related to their book(s). Another strategy involves writing articles and other materials that show up online and are found when people search for a given topic related to a topic about which the author has written.
If you need help building an author platform, branding yourself and your book(s) or generating recognition for what you do, Make Money Writing Books will help. Bob's popular book addresses a multitude of ideas and strategies that you can use to help sell more books and create residual and passive income streams. The tips outlined in the book are focused to help authors but apply to virtually any professional trying to increase personal and product recognition and visibility.
In my book Customer Service Skills for Success, I define customer service as "the ability of knowledgeable, capable, and enthusiastic employees to deliver products and services to their internal and external customers in a manner that satisfies identified and unidentified needs and ultimately results in positive word-of-mouth publicity and return business."