Customer Service Quote – Maya Angelou
One of the most important means for customer service representatives to create a customer-centric environment is to think of ways to build a sound relationship with everyone with whom they come into contact.
By going out of your way to identifying customer needs, wants and expectations and then take extra steps to satisfy them, you can help guarantee customer and brand loyalty.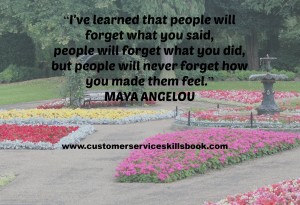 For ideas and techniques that can be used to develop excellent customer service skills and deliver superior customer service, get copies of Customer Service Skills for Success and Please Every Customer: Designing Stellar Customer Service Across Cultures. 
Here are a few more Maya Angelou Quotes to enjoy!
I do my best because I'm counting on you counting on me. Maya Angelou
If you are always trying to be normal you will never know how amazing you can be.
Nothing will work unless you do.
Do the best you can until you know better. Then when you know better, do better.
Develop enough courage so that you can stand up for yourself and then stand up for somebody else.
Only equals can become friends. – Maya Angelou
If you find it in your heart to care for somebody else, you will have succeeded. Maya Angelou
You can't really know where you are going until you know where you have been.
I've learned that people will forget what you said, people will forget what you did, but people will never forget how you made them feel.
Life is not measured by the number of breaths we take, but by the moments that take our breath away.
The children to whom we read simple stories may or may not show gratitude, but each boon we give strengthens the pillars of the world.
If you don't like something, change it. If you can't change it, change your attitude.
When you know you are of worth — not asking it but knowing it — you walk into a room with particular power.
When you know you are of worth, you don't have to raise your voice, you don't have to become rude, you don't have to become vulgar; you just are. And you are like the sky is, as the air is, the same way water is wet. It doesn't have to protest.
You can only become truly accomplished at something you love. Don't make money your goal. Instead, pursue the things you love doing, and then do them so well that people can't take their eyes off you.
Ask for what you want and be prepared to get it!
You can't use up creativity. The more you use, the more you have.
I was told many years ago by my grandmother who raised me: If somebody puts you on a road and you don't feel comfortable on it and you look ahead and you don't like the destination and you look behind and you don't want to return to that place, step off the road.
My work is, to be honest. My work is to try to think clearly, then have the courage to make sure that what I say is the truth.
About Robert C. Lucas
Bob Lucas has been a trainer, presenter, customer service expert, and adult educator for over four decades. He has written hundreds of articles on training, writing, self-publishing, and workplace learning skills and issues. He is also an award-winning author who has written thirty-seven books on topics such as, writing, relationships, customer service, brain-based learning, and creative training strategies, interpersonal communication, diversity, and supervisory skills. Additionally, he has contributed articles, chapters, and activities to eighteen compilation books. Bob retired from the U.S. Marine Corps in 1991 after twenty-two years of active and reserve service.
Make Money Writing Books: Proven Profit Making Strategies for Authors by Robert W. Lucas at Amazon.com.
The key to successfully making money as an author and/or self-publisher is to brand yourself and your company and to make yourself and your book(s) a household name. Part of this is face-to-face interaction with people at trade shows, library events, book readings, book store signings, blogging or guest blogging on a topic related to their book(s). Another strategy involves writing articles and other materials that show up online and are found when people search for a given topic related to a topic about which the author has written.
If you need help building an author platform, branding yourself and your book(s) or generating recognition for what you do, Make Money Writing Books will help. Bob's popular book addresses a multitude of ideas and strategies that you can use to help sell more books and create residual and passive income streams. The tips outlined in the book are focused to help authors but apply to virtually any professional trying to increase personal and product recognition and visibility.
In my book Customer Service Skills for Success, I define customer service as "the ability of knowledgeable, capable, and enthusiastic employees to deliver products and services to their internal and external customers in a manner that satisfies identified and unidentified needs and ultimately results in positive word-of-mouth publicity and return business."