Process Improvement Quote – Stephen Covey
"If we keep doing what we're doing,
we're going to keep getting what we're getting."
– Stephen Covey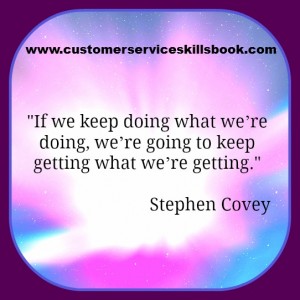 Customers generally do not like being kept waiting when your system is not functioning properly. They rightfully view their time as valuable. In today's "I want it and I want it now" society, inconveniencing your customers will likely lead to emotional reactions, complaints and customer defection to a competitor. To expect them to patiently wait while a new cashier tries to figure out the registration codes, someone gets a price check because the product was coded incorrectly, you have to call the office for information or approvals, and so on, is unfair and unreasonable.
To counter potential problems, all employees should be empowered to handle customer complaints and issues to some degree. Additionally, they should be trained to constantly look for ways to improve the service delivery system and enhance the customer experience.
For ideas and suggestions on strategies to help create a more customer-centric environment, get a copy of Customer Service Skills for Success.
Who was Stephen Covey?
Stephen Richards Covey was born on October 24, 1932, in Salt Lake City, Utah.  His formal education was done at the Brigham Young University, David Eccles School of Business, Harvard Business School, and The University of Utah.  Stephen Covey was an American educator, author, businessman, and keynote speaker.
Stephen Covey's most popular book was The 7 Habits of Highly Effective People. He also wrote numerous other books which include First Things First, Principle-Centered Leadership, The 7 Habits of Highly Effective Families, The 8th Habit, and The Leader In Me — How Schools and Parents Around the World Are Inspiring Greatness, One Child at a Time.  He past away on July 16, 2012, at the Eastern Idaho Regional Medical Center in Idaho Falls, Idaho.
Here are a few more amazing quotes by Stephen Covey…
Start with the end in mind.
Seek first to understand, then to be understood.
The main thing is to keep the main thing the main thing.
The key is not to prioritize what's on your schedule but to schedule your priorities.
Effective leadership is putting first things first. Effective management is discipline, carrying it out.
Management is efficiency in climbing the ladder of success; leadership determines whether the ladder is leaning against the right wall.
The way we see the problem is the problem.
There are three constants in life… change, choice, and principles.
Live out of your imagination, not your history.
Trust is the glue of life. It's the most essential ingredient in effective communication. It's the foundational principle that holds all relationships.
Learn more about Robert C. Lucas, Your Customer Service Blogger, and Award-Winning Author
Bob Lucas has been a trainer, presenter, customer service expert, and adult educator for over four decades. He has written hundreds of articles on training, writing, self-publishing, and workplace learning skills and issues. He is also an award-winning author who has written thirty-seven books on topics such as, writing, relationships, customer service, brain-based learning, and creative training strategies, interpersonal communication, diversity, and supervisory skills. Additionally, he has contributed articles, chapters, and activities to eighteen compilation books. Bob retired from the U.S. Marine Corps in 1991 after twenty-two years of active and reserve service.
Make Money Writing Books: Proven Profit Making Strategies for Authors by Robert W. Lucas at Amazon.com.
The key to successfully making money as an author and/or self-publisher is to brand yourself and your company and to make yourself and your book(s) a household name. Part of this is face-to-face interaction with people at trade shows, library events, book readings, book store signings, blogging or guest blogging on a topic related to their book(s). Another strategy involves writing articles and other materials that show up online and are found when people search for a given topic related to a topic about which the author has written.
If you need help building an author platform, branding yourself and your book(s) or generating recognition for what you do, Make Money Writing Books will help. Bob's popular book addresses a multitude of ideas and strategies that you can use to help sell more books and create residual and passive income streams. The tips outlined in the book are focused to help authors but apply to virtually any professional trying to increase personal and product recognition and visibility.
In my book Customer Service Skills for Success, I define customer service as "the ability of knowledgeable, capable, and enthusiastic employees to deliver products and services to their internal and external customers in a manner that satisfies identified and unidentified needs and ultimately results in positive word-of-mouth publicity and return business."
Before you go, enjoy a few more quotes by Stephen Covey…
"There are three constants in life – change, choice and principles."
"Make time for planning; Wars are won in the general's tent."
"Begin with the end in mind."
"You have to decide what your highest priorities are and have the courage – pleasantly, smiling, nonapoloegetically – to say 'no' to other things. And the way to do that is by having a bigger 'yes' burning inside."
"Put first things first." Stephen Covey
"Seek first to understand, and then to be understood." Stephen Covey
"Most people do not listen with the intent to understand. Most people listen with the intent to reply."
"Trust is the glue of life. It's the most essential ingredient in effective communication. It's the foundational principle that holds all relationships."
"Treat your employees exactly as you want them to treat your best customers."
"The key is not to prioritize what's on your schedule but to schedule your priorities."
"Leadership is a choice, not a position."
"I am not a product of my circumstances, I am a product of my decisions." Stephen Covey
"Strength lies in differences not in similarities."
"Listen with your eyes for feelings."
"The way we see the problem is the problem."
"Most of us spend too much time on what is urgent and not enough time on what is important." Stephen Covey
"Highly proactive people don't blame circumstances, conditions or conditioning for their behavior."
"Management is doing things right; leadership is doing the right things."
"He who has a why can deal with any what or how." Stephen Covey
"Our ultimate freedom is the right and power anybody or anything outside ourselves will affect us."
"The only thing that endures over time is the Law of the Farm. You must prepare the ground, plant the seed, cultivate, and water it if you expect to reap the harvest."
"A personal mission statement becomes the DNA for every other decision we make."
"Courage is not the absence of fear but the awareness that something else is more important." Stephen Covey
"To achieve goals you've never achieved before you need to start doing things you've never done before."
"Sow a thought, reap an action; sow an action, reap a habit; sow a habit, reap a character; sow a character, reap a destiny."
"Every human has four endowments – self-awareness, conscience, independent will and creative imagination. These give us the ultimate human freedom. The power to choose, to respond, to change."
"I teach people how to treat me by what I will allow."
"Motivation is a fire from within. If someone else trie to light that fire under you, chances are it will burn very briefly."
"You can change the fruit without changing the root."
"Our character is basically a composite of our habits because they are consistent. Often unconscious patterns, they constantly, daily, express our character."
"Be patient with yourself. Self-growth is tender; it's holy ground. There's no greater investment." Stephen Covey
"If I really want to improve my situation, I can work on the one thing over which I have control – myself."
"What you do has a greater impact than what you say." Stephen Covey