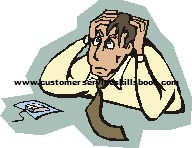 Two Strategies for Reducing Stress in a Customer Service Environment
In a struggling economy, customer service managers around the world realize the value of providing service on demand and maintaining customer-centric environments. With the competition for customers, many organizations are making ongoing advances in system efficiency to address customer needs.
Tasks that used to take hours, days, and even weeks are now done almost instantaneously or certainly in a greatly reduced time frame. Because of evolving technology, transportation, and systems, the speed at which customers expect product and service delivery will likely increase in the future. All this is creating a situation in which customers continue to demand more and faster customer service. The idea of getting it now has so permeated consumer mentality that your failure to provide the quickest, most efficient delivery of products and services is the kiss of death for you and your organization. As a result of this "get it now" mentality, each new generation of consumers has less memory of the long waiting times experienced by their forebears. People are accustomed to getting what they want, when and where they want it with little or no wait time.
Today, if customers cannot get what they want from you and your organization when they want it, they go elsewhere. In many cases, they can just log onto a computer and surf the Internet to get their needs, wants and expectations met – often faster and cheaper. These continuing changes and expectations increase pressure and stress for you and your coworkers.
The following are three simple strategies to help maintain your sanity and potentially reduce stress on any given day as a customer service representative.
Regain control. Sometimes, we just have to say "Enough!" and step back to analyze where we are with commitments and factors that are impacting our lives. If you regularly feel that you are "swimming upstream" and that all sorts of people or tasks are coming at you constantly, with little break, stop. Take a deep breath, look at what is causing this feeling and the actions occurring and develop a strategy for modifying or dealing with them. Don't be embarrassed or afraid to ask for help. Many times, when people become overwhelmed and start to get depressed about it, they are ashamed that they feel they cannot handle things themselves and avoid seeking help. This only allows things to continue to build and overwhelm. If you get to such a point, it is crucial that you get help so that you can continue to perform professionally and help your customers.
Learn to say "no." Take the approach that antidrug campaigns at schools have taught children for years in relation to drugs – "Just Say No" – when it comes to accepting more responsibility or assignments whenever possible and appropriate. Obviously, you are not likely to tell your boss or customers that you won't do something or help them, but when possible and feasible, decline to assist others (e.g. family, friends, co-workers, or whomever).
If you are overcommitted, seek assistance from others in the workplace. Speak to your supervisor or team leader and let them know what you are working on and your time commitments. Often, they do not realize how much work they have given you if they routinely pass along assignments as tasks come up, especially in a high-pressure or chaotic work environment.
For additional information on customer service-related stress and strategies and techniques for reducing it, so that you can continue to provide excellent customer service, get a copy of Please Every Customer: Delivering Stellar Customer Service Across Cultures and Customer Service Skills for Success.