Definition of a Customer – Quote by Mahatma Gandhi
Customers come in all sizes, shapes, and descriptions in this multicultural, diverse world. Chances are that you will encounter many people daily who are not like you, who do not think like you and who do not want or expect the same things that you do. This is why it crucial for every employee, from the executive level to the front line, to adopt a customer-centric approach to dealing with people.
Everyone in the organization should strive to increase their knowledge and skills related to people, cultures, and different human factors (e.g. age, gender, race, etc) so that they have a better perspective on how to potentially interact on an individual level with current and potential customers.
Additionally, all employees should keep something that Mahatma Gandhi once said about customers in mind: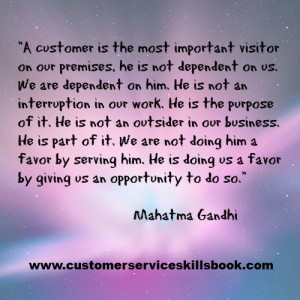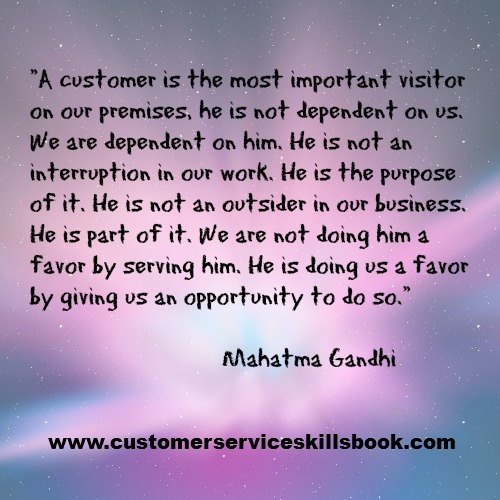 Learn about Robert C. Lucas – A Big Fan of Mahatma Gandhi
Bob Lucas has been a trainer, presenter, customer service expert, and adult educator for over four decades. He has written hundreds of articles on training, writing, self-publishing, and workplace learning skills and issues. He is also an award-winning author who has written thirty-seven books on topics such as, writing, relationships, customer service, brain-based learning, and creative training strategies, interpersonal communication, diversity, and supervisory skills. Additionally, he has contributed articles, chapters, and activities to eighteen compilation books. Bob retired from the U.S. Marine Corps in 1991 after twenty-two years of active and reserve service.
Make Money Writing Books: Proven Profit Making Strategies for Authors by Robert W. Lucas at Amazon.com.
The key to successfully making money as an author and/or self-publisher is to brand yourself and your company and to make yourself and your book(s) a household name. Part of this is face-to-face interaction with people at trade shows, library events, book readings, book store signings, blogging or guest blogging on a topic related to their book(s). Another strategy involves writing articles and other materials that show up online and are found when people search for a given topic related to a topic about which the author has written.
If you need help building an author platform, branding yourself and your book(s) or generating recognition for what you do, Make Money Writing Books will help. Bob's popular book addresses a multitude of ideas and strategies that you can use to help sell more books and create residual and passive income streams. The tips outlined in the book are focused to help authors but apply to virtually any professional trying to increase personal and product recognition and visibility.
Here are a few more quotes to enjoy reading from Mahatma Gandi…
In a gentle way, you can shake the world.
What barrier is there that love cannot break?
In doing something, do it with love or never do it at all.
Gentleness, self-sacrifice, and generosity are the exclusive possession of no one race or religion.
The best way to find yourself is to lose yourself in the service of others.
A 'No' uttered from deepest conviction is better and greater than a 'Yes' merely uttered to please, or what is worse, to avoid trouble.
A man is but the product of his thoughts what he thinks, he becomes.
They cannot take away our self-respect if we do not give it to them.
Happiness is when what you think, what you say, and what you do are in harmony.
To lose patience is to lose the battle.
My faith is brightest in the midst of impenetrable darkness.
That service is the noblest which is rendered for its own sake.
Even if the paradise of material satisfaction, which they envisage as their final goal, realized on earth, it would not bring mankind either contentment or peace.
The difference between what we do and what we are capable of doing would suffice to solve most of the world's problems.
I suppose leadership at one time meant muscles, but today it means getting along with people.
It is unwise to be too sure of one's own wisdom. It is healthy to be reminded that the strongest might weaken and the wisest might err.
You can chain me, you can torture me, you can even destroy this body, but you will never imprison my mind.
To give pleasure to a single heart by a single act is better than a thousand heads bowing in prayer.
There is nothing that wastes the body like worry, and one who has any faith in God should be ashamed to worry about anything whatsoever.
There is a sufficiency in the world for man's need but not for man's greed.
Honest disagreement is often a good sign of progress.