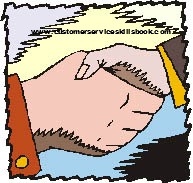 Building effective customer relationships are crucial to creating and maintaining customer loyalty.  Every member of an organization should be continually looking for ways that they individually can enhance the bond between customers and service providers. These efforts can lead to enhanced customer and brand loyalty.
The following are three simple tips that anyone can use to better manage customer relationships and build stronger levels of trust.
If you seek trust; communicate it through your words and nonverbal cues.
Always act in the best interest of your customers. Listen to them, ask questions, anticipate their needs, deliver what you promise, and exhibit high levels of professionalism in every thing that you do whether your customers are present or not.
Take the time to personalize your customer interactions and to make each customer feel special. Use a customer's name often during an interaction, listen, smile, ask questions to show interest and strive to project a positive image. This can all lead to enhanced trust and helps ensure that the customer returns.