Finding ways to build a strong customer-centric organization and help build customer and brand loyalty seems to take a lot of time in organizations today.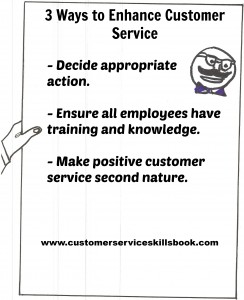 Here are three ways that customer service representatives and others in the organization can help ensure service success and better needs the changing needs wants and expectations of current and potential customers.
Decide on an appropriate course of action for resolution of problems or satisfaction of needs only after adequate information has been gathered through effective questioning.
Ensure that all employees have the same level of training and knowledge pertaining to products, services, and that they adhere to policies and procedures for dealing with all customer situations.
Find ways to make sure that positive customer service becomes second nature to employees throughout the organization. This includes creating an environment in which service providers are proud of the organization, themselves, and the service that they provide.
For more ideas on effectively creating an environment that encourages customer and brand loyalty, get copies of Customer Service Skills for Success, How to Be a Great Call Center Representative and Please Every Customer: Delivering Stellar Customer Service Across Cultures.