Customers like doing business with those who understand them and their needs and go out of their way to deliver timely and quality services and products at a fair price. This can lead to consumer satisfaction and that is a big factor for many customers in remaining loyal to a brand or organization.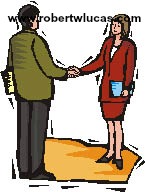 Here are two simple tips that can help enhance customer retention and provide quality service to customers.
1.  Pay Attention
As you listen to your customers, focus all your attention on them so that you can identify and address their needs. If you are providing service face-to-face use positive nonverbal cues (e.g. face the customer, smile, use open body gestures, make eye contact, stop doing other things, and focus attention on the customer) and language. Ask open-end questions to determine the customer's needs. Also, use the active listening techniques to ensure that you get all the information you need to properly address your customer's needs or concerns.
2.  Deal with One Customer at a Time
You cannot effectively handle two people (on the phone or in person) simultaneously. When more than one call or customer comes in at the same time, seek assistance or ask one of them to either wait or if you might get back to him or her at a later time. Then, give personalized attention to the other customer.
Providing stellar customer service is not always easy, but if you strive to gain and use positive customer relationship management knowledge and skills, you can effectively identify and satisfy customer needs.
For additional strategies on effectively providing stellar customer service, get a copy of Please Every Customer: Providing Stellar Customer Service Across Cultures and Customer Service Skills for Success.