Service breakdowns occur daily in all types of organizations. They happen whenever the product or service delivered fails to meet customer needs, wants and expectations.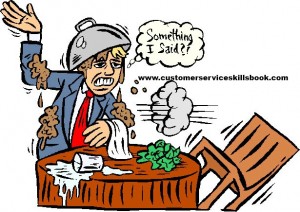 In some cases the product or service delivered may function exactly as it was designed or promised, still if the customer perceived that it should work another way, a breakdown can occur. Additionally, when a product or service fails to meet what the customer wants or needs or does not live up to advertised promises or standards, dissatisfaction and frustration can result.
In addition, customer expectations can affect how service is delivered and perceived. Today's customers are more discerning and better educated, have access to more up-to-date and accurate information. They are often more demanding than in the past. Their expectations about your products and services, and the way that you will provide them may create a situation where little you do or say can meet their perceptions. In such cases, remain professional, positive and offer alternatives or concessions, if appropriate, in order to maintain the relationship and provide what the customer needs or wants.
Failure to fulfill some or all of your customer expectations can lead to dissatisfaction and in some cases confrontation and/or loss of business. Keep in mind that they also have many more options offered by your competitors.
For ideas on how to avoid and recover from customer service breakdowns and salvage relationships when customer service does not go as planned, get a copy of Customer Service Skills for Success by Robert W. Lucas.