Customer Service Inspirational Quote – Karl Albrecht & Ron Zemke
Successful customer service representatives, and others in their organization who want to ensure high levels of customer and brand satisfaction, realize that only their dedication and positive attitudes can lead to success.
A simple concept summarized in the following statement, by noted customer service consultants and authors Karl Albrecht and Ron Zemke, provides a solid insight in how to shine in the service profession.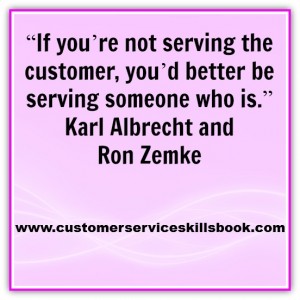 Other Amazing Quotes by Karl Albrecht…
There are only two ways to establish a competitive advantage: do things better than others or do them differently.
You seldom improve quality by cutting costs, but you can often cut costs by improving quality.
Start out with an ideal and end up with a deal.
Albrecht's Law – Intelligent people, when assembled into an organization, will tend toward collective stupidity.
In an organization of any significant size, the executives cannot create the future single-handedly. They must develop the enterprise in a constellation of teams within the overall team if they hope to bring the special talents and resources to bear on the challenge of creating superior customer value and sustaining a competitive advantage in the eyes of its customers.
The Zen philosophy posits that 'human beings suffer' and 'the cause of suffering is desire.' The way to put an end to suffering is to stop wanting everything, all the time.
Customer needs have an unsettling way of not staying satisfied for very long.
Another Amazing Quote by Ron Zemke…
Customers don't distinguish between you and the company you work for. To the customer's way of thinking, you are the company.
For specific ideas and strategies on how to effectively provide stellar service to customers, get copies of Customer Service Skills for Success, Please Every Customer: Delivering Stellar Customer Service Across Cultures and How to Be a Great Call Center Representative.
About Robert C. Lucas
Bob Lucas has been a trainer, presenter, customer service expert, and adult educator for over four decades. He has written hundreds of articles on training, writing, self-publishing, and workplace learning skills and issues. He is also an award-winning author who has written thirty-seven books on topics such as, writing, relationships, customer service, brain-based learning, and creative training strategies, interpersonal communication, diversity, and supervisory skills.
Additionally, he has contributed articles, chapters, and activities to eighteen compilation books. Bob retired from the U.S. Marine Corps in 1991 after twenty-two years of active and reserve service.
Bob Lucas B.S., M.A., M.A, CPLP is the principal in Robert W. Lucas Enterprises, Inc and an internationally-known author; learning and performance professionals. He has written and contributed to numerous books on the subject of customer service skill training.
He regularly conducts workshops on creative training, train-the-trainer, customer service, interpersonal communication, and management,
and supervisory skills.
Learn more about Bob and his organization at www.robertwlucas.com and follow his blogs at www.robertwlucas.com/wordpress,
www.customerserviceskillsbook.com, and www.thecreativetrainer.com. Like Bob at www.facebook.com/robertwlucasenterprises