Customer Service Quote – Sam Walton
"The goal as a company is to have customer service
that is not just the best, but legendary."
– Sam Walton Founder of Walmart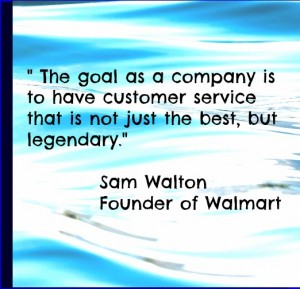 Customer service is not just the job of customer service representatives and others on the "front line." It is a crucial role that everyone from the CEO down must fulfill in order for an organization to be successful.
Certainly, the first people to come into contact with a customer are often those who answer the phones or respond to electronic messages as part of their job description. However, isn't that something that everyone in the organization does every day? The challenge is that many people who are not hired specifically to fill a position designated as "customer service" forget that they also represent the organization each time that they come into contact with someone during the day.  They often do not consider their peers or other employees as internal customers and fail to provide a level of quality attention that they deserve. This might happen when someone from within the organization asks for information, only to have to call several times to follow-up when it is not provided as promised.
The bottom line is that if every employee adopts a customer-centric approach to doing their job, their reputation and that of the organization will potentially soar. By creating a service culture where everyone takes responsibility for positive service delivery; everyone wins.
For ideas and strategies on how to develop a customer-focused attitude, get a copy of the book Customer Service Skills for Success.
Learn All About Robert C. 'Bob' Lucas Now and
Understand Why He is an Authority in the Customer Service Skills Industry
Robert C. 'Bob' Lucas has been a trainer, presenter, customer service expert, and adult educator for over four decades. He has written hundreds of articles on training, writing, self-publishing, and workplace learning skills and issues. He is also an award-winning author who has written thirty-seven books on topics such as, writing, relationships, customer service, brain-based learning, and creative training strategies, interpersonal communication, diversity, and supervisory skills. Additionally, he has contributed articles, chapters, and activities to eighteen compilation books. Bob retired from the U.S. Marine Corps in 1991 after twenty-two years of active and reserve service.
Make Money Writing Books: Proven Profit Making Strategies for Authors by Robert W. Lucas at Amazon.com.
The key to successfully making money as an author and/or self-publisher is to brand yourself and your company and to make yourself and your book(s) a household name. Part of this is face-to-face interaction with people at trade shows, library events, book readings, book store signings, blogging or guest blogging on a topic related to their book(s). Another strategy involves writing articles and other materials that show up online and are found when people search for a given topic related to a topic about which the author has written.
If you need help building an author platform, branding yourself and your book(s) or generating recognition for what you do, Make Money Writing Books will help. Bob's popular book addresses a multitude of ideas and strategies that you can use to help sell more books and create residual and passive income streams. The tips outlined in the book are focused to help authors but apply to virtually any professional trying to increase personal and product recognition and visibility.
In my book Customer Service Skills for Success, I define customer service as "the ability of knowledgeable, capable, and enthusiastic employees to deliver products and services to their internal and external customers in a manner that satisfies identified and unidentified needs and ultimately results in positive word-of-mouth publicity and return business."