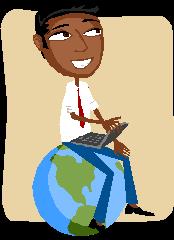 Customer Service Representatives Have
to Power to Help or Hurt Their Organization
You may have heard that one person can make a difference in the world. Well, one customer service representative can make a difference in the level of success that is achieved by an organization.
Think about the fact that if you are in a position where you are the first person with whom a customer or potential customer comes in contact, you have the power to create a positive image in that person's mind. You are the face of your organization in such instances. What you do or say from the time you greet the customer until the transaction ends will cement an image in their mind. Through your professional presence, knowledge, verbal and non-verbal cues and attitude towards service, you can create an experience that will have the customer thinking either, "Wow, this is a person/company that I want to visit again" or "Where did they get that person? I'll never do business with this organization again." If the latter occurs, your organization has a problem because research continues to show that dissatisfied customers will tell many other people about a negative service experience. This less than favorable word-of-mouth publicity can bring disaster in the form of lost business. And, don't forget that it is your current and new customers who provide the revenue that pays for your salary, benefits, training, and much more, so you have a vested interested in ensuring that each interaction is positive.
The important thing to remember about customer needs wants and expectations are that if you do not deliver what they believe to be exceptional customer service, they will simply go to another organization that will. By using professional customer service skills, such as listening, sending and receiving positive non-verbal communication, and verbally communicating in a positive manner, you can determine how to best serve your customers.
For more information, customer service tips and ideas on how to deliver the best possible customer service to a very diverse customer world, get a copy of my book Please Every Customer: Delivering Stellar Customer Service Across Cultures.