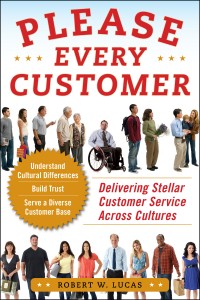 Impact of Demographics on Consumer Spending
The world is shrinking as millions of consumers from various cultures and demographic backgrounds come together. In an age of lightning-fast technology and the ability to get onto a plane in the morning and be in another country within twenty-four hours, the likelihood that a customer service representative will deal with someone from a different background who looks, sounds and thinks differently from them is almost a given. With these encounters comes huge revenue generation opportunities, but also big challenges in how to effectively provide service to individuals from various backgrounds.
Like many parts of the developed world, consumer behavior and the overall buying power of various ethnic groups in the United States has grown. According to one study done by The University of Georgia's Selig Center shows that "…Over the 19-year period (1990-2008), the percentage gains in minority buying power vary consider­ably by race, from a gain of 337 percent for Asians to 213 percent for American Indians to 187 percent for blacks. All of these target markets will grow much faster than the white market, where buying power will increase by 139 percent."
Other sources contend that women are also a force to be reckoned with in the retail environment. Female consumers account for a majority of buying decisions on consumer products and services in many areas, including everything from automobiles to healthcare. Many of the increases described are due to more representation of these groups in the workplace and at higher levels (e.g. management), higher education levels and better access to workplace opportunities for minorities (e.g. training, promotions, and transfers).
Various diverse groups are also having a major impact on global markets, especially in the United States where a report on http://www.marketingresearch.com "…estimated the buying power of gays and lesbians exceed $835 billion and projected the gay and lesbian population to exceed 16.3 million people by 2011." In addition, people with disabilities spend billions of dollars on goods and services. Some estimates for online spending by this group alone top $10 billion dollars a year.
Add to the numbers you just read the demographic of the newest generation of shoppers – Generation Y (also known as Millennials, teens, Tweeners, and Twenty-Somethings) born between 1978 and 2000 with nearly eighty-four million members in the United States alone. According to Kit Yarrow and Jayne O'Donnell in their eye-opening book Gen Buy: How Tweens, Teens, and Twenty-Somethings Are Revolutionizing Retail, this demographic group spends over $200 billion dollars a year and it is estimated that in their lifetime, their consumption will top $10 trillion dollars.
Obviously the recession slowed the number of sales being made worldwide.  Even so, with the types of economic power being wielded by various ethnic, age and other diverse groups, service providers should plan accordingly and be prepared to meet the needs of each group of customers.
What this means is that by gaining knowledge about values, beliefs, motivators, history and other factors that can influence someone's behavior and perceptions, especially related to those of different diverse categories, you can better prepare to serve them. For example, there is a potential for distrust when some people of different cultures or groups with a history of negative relations (e.g. Caucasian and African-American or North American Indian, Chinese and Japanese, Israeli and Palestinian, Christian and Muslim) come together. As a service provider, if you are aware of potential negative perceptions, you might modify your approach to providing service in a given situation.
For more information and suggested strategies for serving a global customer base, get a copy of Please Every Customer: Delivering Stellar Customer Service Across Cultures.
Who is Robert C. Lucas?
Bob Lucas has been a trainer, presenter, customer service expert, and adult educator for over four decades. He has written hundreds of articles on training, writing, self-publishing, and workplace learning skills and issues. He is also an award-winning author who has written thirty-seven books on topics such as, writing, relationships, customer service, brain-based learning, and creative training strategies, interpersonal communication, diversity, and supervisory skills. Additionally, he has contributed articles, chapters, and activities to eighteen compilation books. Bob retired from the U.S. Marine Corps in 1991 after twenty-two years of active and reserve service.
Make Money Writing Books: Proven Profit Making Strategies for Authors by Robert W. Lucas at Amazon.com.
The key to successfully making money as an author and/or self-publisher is to brand yourself and your company and to make yourself and your book(s) a household name. Part of this is face-to-face interaction with people at trade shows, library events, book readings, book store signings, blogging or guest blogging on a topic related to their book(s). Another strategy involves writing articles and other materials that show up online and are found when people search for a given topic related to a topic about which the author has written.
If you need help building an author platform, branding yourself and your book(s) or generating recognition for what you do, Make Money Writing Books will help. Bob's popular book addresses a multitude of ideas and strategies that you can use to help sell more books and create residual and passive income streams. The tips outlined in the book are focused to help authors but apply to virtually any professional trying to increase personal and product recognition and visibility.