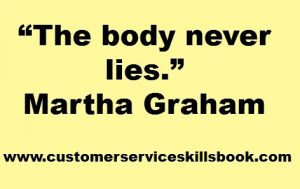 Customer Service Training Should Address Nonverbal Communication
Good verbal and nonverbal communication skills are crucial for any customer service representative who wants to deliver the best customer service possible. This is why any customer service training should address nonverbal communication.
The art of sending and receiving messages through words and with facial expressions, gestures, and other body language is crucial in dealing with customers. This is especially true when dealing with people from other countries or cultures since one's values and beliefs impact the interpretation of nonverbal cues. Failure to be aware of diverse differences can lead to an unfortunate breakdown in communication.
Because facial expressions are closely tied to human emotion, you should be careful about projecting subconscious biases that you might have toward any group because you might unintentionally send a negative message to a customer before you realize it. For example, if you disapprove of customers who have facial piercings and tattoos you might indicate your displeasure nonverbally. This might be done unconsciously with a smirk or other facial gestures. You might also unintentionally stare when a customer matching that description walks up to you or passes by.
The bottom line is that customer service is all about being in the people business. By better establishing sound relationships and communicating effectively with your customers, you can move from good customer service to the best customer service possible.
To better understand why customer service training should address nonverbal communication, search nonverbal communication on this blog. Want to explore the role of facial expressions and other nonverbal cues that impact relationships in a diverse business world? Check out Please Every Customer: Delivering Stellar Customer Service Across Cultures.
About Robert C. Lucas
Bob Lucas has been a trainer, presenter, customer service expert, and adult educator for over four decades. He has written hundreds of articles on training, writing, self-publishing, and workplace learning skills and issues. He is also an award-winning author who has written thirty-seven books on topics such as, writing, relationships, customer service, brain-based learning, and creative training strategies, interpersonal communication, diversity, and supervisory skills. Additionally, he has contributed articles, chapters, and activities to eighteen compilation books. Bob retired from the U.S. Marine Corps in 1991 after twenty-two years of active and reserve service.