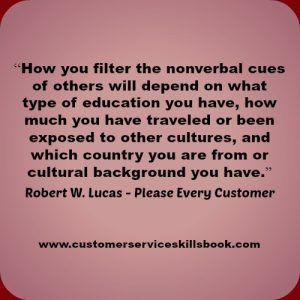 Nonverbal Communication with Customers:
Using Gestures to Build Strong Relationships
Using effective nonverbal communication with customers is a powerful way to send and receive messages that enhance your meaning and can lead to customer satisfaction. This is because many research studies have found that nonverbal cues often override verbal messages that you send. In these articles, I offer several nonverbal communication strategies that customer service representatives can use to build stronger customer relationships.
The use of gestures with your head, hands, arms, and shoulders to accentuate verbal messages adds color, excitement, and enthusiasm to your communication. Using physical movements naturally during a conversation with a customer may help make a point or result in added credibility if done in a positive manner.
Typically, such movements are designed to gain and hold attention (e.g. waving a hand to attract the attention of someone), clarify or describe further (e.g. holding up one finger to indicate the number 1), or emphasize a point (e.g. pounding a fist into the palm of your other hand to drive home a point or express passion about a point that you make verbally).
One important point to remember about nonverbal cues…they are not universal. Many cultures and people attribute different meanings to the same gestures. This can lead to misinterpretation and a breakdown in communication and the customer-provider relationship.
What creative ideas do you have about using effective nonverbal communication with customers?
Using positive nonverbal communication with customers to help deliver excellent service in an effort to meet customer needs, wants and expectations and achieve customer satisfaction is important. To learn more about the topic, search nonverbal communication on this blog. Also, check out Customer Service Skills for Success and Please Every Customer: Delivering Stellar Customer Service Across Cultures. Use your new knowledge to increase customer and brand loyalty and customer retention.
About Robert C. Lucas on Using Effective Non-Verbal Communication Skills
Bob Lucas has been a trainer, presenter, customer service expert, and adult educator for over four decades. He has written hundreds of articles on training, writing, self-publishing, and workplace learning skills and issues. He is also an award-winning author who has written thirty-seven books on topics such as, writing, relationships, customer service, brain-based learning, and creative training strategies, interpersonal communication, diversity, and supervisory skills. Additionally, he has contributed articles, chapters, and activities to eighteen compilation books. Bob retired from the U.S. Marine Corps in 1991 after twenty-two years of active and reserve service.