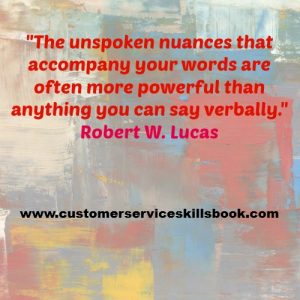 Nonverbal Communication Tips –
The Importance of Gestures in Customer Communication
Never underestimate the power of nonverbal communication when interacting with your customers or others. The issue is so important that entire books have been written on the topic. This article provides some nonverbal communication tips related to gesturing that you may want to consider before meeting your next customer.
Many studies have been done on the different ways in which people communicate and send messages to others. One classic study by Dr. Albert Mehrabian emphasized that the emotions between two people can be amplified through the use of nonverbal gestures or cues. In some instances, silent messages can override spoken words. These unspoken signals should not be underestimated if you are working with customers. An example of how you might impact a customer-provider interaction involves gesturing. To send a positive message, use open, flowing gestures (gesturing with arms, palms open and turned upward, out and away from the body). This approach can encourage listening and help explain messages more effectively to customers. If you use closed, restrained movements (tightly crossed arms, clenched fists, hands in pockets, hands or fingers intertwined and held below waist level or behind the back) you can potentially send a message of coolness, insecurity, or disinterest. This could result in a nonproductive situation and lead to customer dissatisfaction.
What nonverbal communication tips can you offer to customer service professionals?
The key is to make gestures seem natural and to be conscious that some people might perceive your movements differently based on their background or culture. If you do not normally use gestures when communicating, you may want to practice in front of a mirror until you feel relaxed in using them. Make sure that your gestures complement your verbal messages without distracting.
Effective nonverbal communication can help build stronger customer relationships while helping increase customer satisfaction and retention. For more ideas and nonverbal communication tips related to positively communicating with your customers, search the topic on this blog. Also, check out more strategies in Please Every Customer: Delivering Stellar Customer Service Across Cultures and Customer Service Skills for Success.
About Robert W. Lucas on Customer Communication
Bob Lucas has been a trainer, presenter, customer service expert, and adult educator for over four decades. He has written hundreds of articles on training, writing, self-publishing, and workplace learning skills and issues. He is also an award-winning author who has written thirty-seven books on topics such as, writing, relationships, customer service, brain-based learning, and creative training strategies, interpersonal communication, diversity, and supervisory skills. Additionally, he has contributed articles, chapters, and activities to eighteen compilation books. Bob retired from the U.S. Marine Corps in 1991 after twenty-two years of active and reserve service.