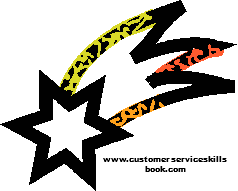 The Role of Facial Expressions in Customer Service
A major component of delivering stellar customer service to your customers is to continually hone your customer service skills in the area of communication so that you are able to deliver the best customer service possible. For example, there are so many different messages that can be sent to your customers through various nonverbal communication cues, that learning their meaning and significance can take years. This is especially true when you factor in the fact that different people and cultures assign varying meanings to what they see.
By moving the muscles in your face, you can convey feelings and messages to others that let them know whether you are experiencing happiness, sadness, frustration anger or many other moods. As with other nonverbal cues, the interpretation of facial expressions can vary between cultures and individuals. Since the time of Charles Darwin, researchers have studied facial expressions and have identified that most common facial expressions are interpreted in similar ways by cultures around the world. It is the beliefs of individual cultures related to the appropriateness of expressing emotions like surprise, happiness, sadness, anger, fear, and disgust that change how people use and interpret such facial signals.
Because facial expressions are closely tied to human emotion, you should be careful about projecting subconscious biases that you might have toward any group because you might unintentionally send a negative message to a customer before you realize it. For example, if you disapprove of customers who have facial piercings and tattoos you might indicate your displeasure nonverbally when with a smirk or other facial gesture or you might unintentionally stare when a customer matching that description walks up to you.
To learn more customer service tips related to non-verbal communication and how to effectively use it as a tool for delivering excellent customer service and gaining better customer satisfaction, get copies of Please Every Customer: Delivering Stellar Customer Service Across Cultures and Customer Service Skills for Success.
About Robert W. Lucas
Bob Lucas has been a trainer, presenter, customer service expert, and adult educator for over four decades. He has written hundreds of articles on training, writing, self-publishing, and workplace learning skills and issues. He is also an award-winning author who has written thirty-seven books on topics such as, writing, relationships, customer service, brain-based learning, and creative training strategies, interpersonal communication, diversity, and supervisory skills. Additionally, he has contributed articles, chapters, and activities to eighteen compilation books. Bob retired from the U.S. Marine Corps in 1991 after twenty-two years of active and reserve service.