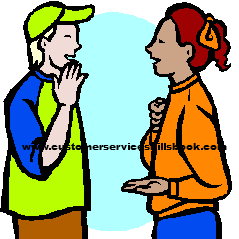 Positive Impressions Builds Strong Customer Relationships
Customers often judge an organization and the people who work for it based on the first impressions made by customer service representatives and others in the organization with whom they come into contact face-to-face or via technology. This is why it is crucial that you and others who serve customers take time to prepare for customer interactions by fine-tuning your interpersonal communication skills.
To ensure that you have the tools needed to deliver excellent customer service to current and potential customers, learn as much as you can about your organization, products, and services. Also, continually work to upgrade your knowledge of people from varies backgrounds and enhance your customer service skills. By taking these basic steps you will be better prepared to send positive messages through your appearance, voice and non-verbal cues and to provide quality customer service.
To learn more about ways to deliver the best customer service possible and make positive impressions on current and potential customers, get copies of Customer Service Skills for Success and Please Every Customer: Delivering Stellar Customer Service Across Cultures.