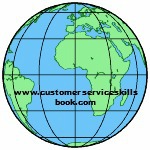 Avoid Assumptions When Communicating Across Cultures
During interpersonal communication, assumptions can sometimes result because of culturally specific understandings. Preconceived ideas can often cause relationship breakdowns and misunderstandings when dealing with a customer who speaks a different language. Even so, there are ways to avoid assumptions when communicating across cultures with someone who speaks a different native language than you do.  If you must assume, then assume that your customer is an intelligent and competent person with whom you can communicate. Then, work with a positive, "can-do" attitude to help ensure you that understand one another correctly.
Recognize that raising your voice when dealing with someone who speaks another primary language is useless. For some reason, many North Americans feel that if they raise their voice to someone who does not speak English well, the person will understand what is being said. An example of how communication can break down between people from different backgrounds was seen several years ago in the popular movie Rush Hour, starring actors Jackie Chan and Chris Tucker. In that movie, both played police officers, Tucker from Los Angeles and Chan from Hong Kong. They met at the Los Angeles airport when Chan flew into town. Here is a synopsis of a scene in which Tucker goes to the airport to pick up a Chan.
Tucker assumes that Chan cannot speak English and raises his voice as he yells, "Do you understand the words that are coming out of my mouth?" Not only did Chan understand, but he later begins to communicate fluently in English. When Tucker acts surprised, miffed, and states, "You did not tell me that you spoke English." Chan nonchalantly says, "I did not say I didn't speak English. You assumed that I did not speak English."
Such actions do little to enhance communication. In fact, yelling or changing tone does nothing to enhance understanding and may well anger or embarrass your customer. It certainly makes you look foolish. Just because a customer is unable to speak English, does not mean that he or she is hearing impaired.
To prevent embarrassment and degradation involving customers, take time to research various cultures. Try to learn some basic phrases spoken by foreign-born customers who frequently do business with your organization. By improving your cultural awareness, global knowledge, and communication skills you can improve the chances that you will provide excellent service to customers.
For additional ideas on how to successfully avoid assumptions when communicating across cultures, check out Please Every Customer: Delivering Stellar Customer Service Across Cultures and Customer Service Skills for Success.