Four Tips for Delivering Customer Service in a Diverse World
The world is much smaller than it was several decades ago. More expendable income, ease of travel and technology have closed the distance and communication gaps that were formerly in place. As a result, you are likely to encounter customers from various cultures and backgrounds at any time during your workday. If you prepare for this inevitability by increasing your cultural awareness, recognizing the value of cultural differences and expanding your knowledge of cultural nuances, you are less likely to run into conflict or encounter misunderstandings.
The following are four tips for potentially preventing service breakdowns when you are dealing with customers from cultures different from your own.
A key point to remember is that the concept of treating others as you would like to be treated (a value common in many religions—e.g., The Golden Rule) can lead to service breakdowns. This is because your customers are unique and may not value what you do or want to be treated as you do. To better ensure service success, find out what customers want and treat them as they want to be treated. This concept has been termed the Platinum Rule by Dr. Tony Alessandra.
Always ask your customer his or her preference for being addressed rather than assume familiarity and make the choice yourself. The latter can lead to a service relationship breakdown since, in many cultures, formality and use of titles and forms of address are important to a person's value system.
By being aware of the time values that you and your customers have and proceeding accordingly; you can reduce your own stress level when dealing with customers or clients from other cultures. In many cultures, arriving half an hour or more after a scheduled event time is an acceptable social custom. If you arrive on or ahead of time, you may actually offend someone or catch them unprepared.
Do not point out the mistake if a customer makes an error or is wrong about something (e.g., improperly fills out a form or uses an incorrect word when speaking). Instead, take responsibility for correcting the error or clearing up the misunderstanding (e.g., "I am sorry that these forms are so confusing. I have trouble with them too." or "I apologize that I did not clearly explain what you needed to do to get a refund."). This strategy allows you to assume responsibility and helps them avoid embarrassment (save face). It also sends a non-judgmental message that you are there to assist them.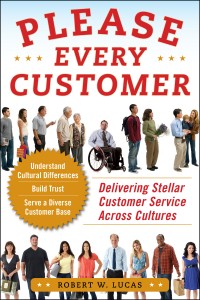 For hundreds of other tips on effectively interacting with customers who have various cultural values, gender differences, abilities, and other diverse characteristics get a copy of Please Every Customer: Delivering Stellar Customer Service Across Cultures.
About Robert W. Lucas
Bob Lucas has been a trainer, presenter, customer service expert, and adult educator for over four decades. He has written hundreds of articles on training, writing, self-publishing, and workplace learning skills and issues. He is also an award-winning author who has written thirty-seven books on topics such as, writing, relationships, customer service, brain-based learning, and creative training strategies, interpersonal communication, diversity, and supervisory skills. Additionally, he has contributed articles, chapters, and activities to eighteen compilation books. Bob retired from the U.S. Marine Corps in 1991 after twenty-two years of active and reserve service.
Make Money Writing Books: Proven Profit Making Strategies for Authors by Robert W. Lucas at Amazon.com.
The key to successfully making money as an author and/or self-publisher is to brand yourself and your company and to make yourself and your book(s) a household name. Part of this is face-to-face interaction with people at trade shows, library events, book readings, book store signings, blogging or guest blogging on a topic related to their book(s). Another strategy involves writing articles and other materials that show up online and are found when people search for a given topic related to a topic about which the author has written.
If you need help building an author platform, branding yourself and your book(s) or generating recognition for what you do, Make Money Writing Books will help. Bob's popular book addresses a multitude of ideas and strategies that you can use to help sell more books and create residual and passive income streams. The tips outlined in the book are focused to help authors but apply to virtually any professional trying to increase personal and product recognition and visibility.