Five Tips for Improving Communication with Your Customers
You should continually look for ways to enhance your communication skills in order to build strong interpersonal relationships with your customers and deliver the best customer service possible. Customer service representatives who spend time on self-improvement are more likely to be successful than those who do not.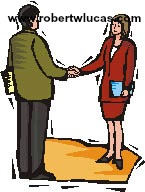 Here are five simple techniques that you might use to increase communication success and potentially enhance customer satisfaction.
Increase your vocabulary. Occasionally spend some time scrolling through a dictionary and the many books on the market related to essential words that you should know in order to be successful. Continue to add to your vocabulary and knowledge throughout your life in order to become a better communicator and service provider.
Deliver personal service. Technology has increased the options and speed at which you can communicate with your customers. Even so, there is still a need to stay personally connected with them. There is no substitution for face-to-face or telephone contact with your customers. This format allows you to "read" their tone of voice and body language, which you cannot do via other technology.
Stay connected. Chances are that you really cannot over-communicate with your customers, especially when problems exist. It is important that you stay in touch with customers periodically to stay in the forefront of their memory and to demonstrate that you value them. The key is to read their reactions to your efforts, and in those instances when someone might want less contact; act accordingly.
Focus on the customer. When the telephone rings, mentally "shift gears" before answering. Stop doing other tasks, clear your head of other thoughts, focus on the telephone, then cheerfully and professionally answer the call.
Maintain good posture. Sit up straight when speaking, since doing so reduces constriction and opens up your throat (larynx) to reduce muffling and improve voice quality.
Communication is a learned skill and does not come naturally. If you want to excel as a representative of your organization and present a professional presence, you will have to work regularly to enhance your knowledge and skills about people and the way that they communicate most effectively.
About Robert W. Lucas
Bob Lucas has been a trainer, presenter, customer service expert, and adult educator for over four decades. He has written hundreds of articles on training, writing, self-publishing, and workplace learning skills and issues. He is also an award-winning author who has written thirty-seven books on topics such as, writing, relationships, customer service, brain-based learning, and creative training strategies, interpersonal communication, diversity, and supervisory skills. Additionally, he has contributed articles, chapters, and activities to eighteen compilation books. Bob retired from the U.S. Marine Corps in 1991 after twenty-two years of active and reserve service.
Make Money Writing Books: Proven Profit Making Strategies for Authors by Robert W. Lucas at Amazon.com.
The key to successfully making money as an author and/or self-publisher is to brand yourself and your company and to make yourself and your book(s) a household name. Part of this is face-to-face interaction with people at trade shows, library events, book readings, book store signings, blogging or guest blogging on a topic related to their book(s). Another strategy involves writing articles and other materials that show up online and are found when people search for a given topic related to a topic about which the author has written.
If you need help building an author platform, branding yourself and your book(s) or generating recognition for what you do, Make Money Writing Books will help. Bob's popular book addresses a multitude of ideas and strategies that you can use to help sell more books and create residual and passive income streams. The tips outlined in the book are focused to help authors but apply to virtually any professional trying to increase personal and product recognition and visibility.