Taking A Customer for Granted Can Lead To Customer Service Breakdowns
Taking a customer for granted is something that a customer service representative should never do. That is because customers are your reason for existing as an employee. They are also the key element in your organization's success. For that reason, you must consciously go out of your way to identify and anticipate their needs, wants, and expectations, then address those in an expedient and professional manner. You can potentially accomplish this by showing customers what you and your company offer that other organizations do not. Also by demonstrating that you are working hard to gain and retain their trust and business.
Remember that just because someone is a customer today, does not mean that they will remain so in the future. Consumer opinions in many parts of the world have shifted related to customer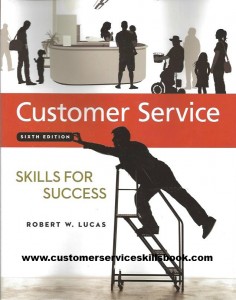 loyalty. In the past, people often exhibited brand loyalty for cars, laundry detergent, restaurants, airlines, and many other items and services. With the advent of technology, global trade and easy access to alternative and comparable products and services, it is not unusual for someone to move to a new product, service or provider to meet their needs based strictly on factors like price, service or availability. The result of such shifts in consumer behavior is that many well-known major organizations and products have changed dramatically, evolved or completely disappeared in past decades. Examples are Montgomery Ward, Pontiac and Plymouth automobiles, Eastern Airlines, and Steak and Ale and Bennigan's restaurants. In instances where manufacturers have recognized the need for product modifications to address customer needs, wants and expectations, they have modified or added additional varieties to their product lines (e.g. Coca Cola and Pepsi, Tide detergent, Cheerios cereal, and Crest toothpaste) in order to retain and satisfy customer needs and expectations.
In order to help ensure retain customers and build customer loyalty from your clients and potential customers, you must place their needs first. One way to do this is to build a sound knowledge of your organization's products, services, policies, and procedures. You must also identify your competition and know their product and service lines, how those differ from yours and what they offer that you do not. In this latter instance, you must understand how to present your organization's offerings in a manner that overshadows the competition. For example, ensure that you know what benefits and advantages your customers might receive from doing business with your organization and then present these to your customers in a positive manner.
Additionally, you must also continually seek to enhance your knowledge and skills while staying attuned to current consumer behavior and trends. Ultimately, your goal is to be the "go-to" person and organization for whatever products or services that your customers might need.
For hundreds of customer service tips and additional ideas and strategies for maintaining positive customer relationships, building customer retention and loyalty, and delivering excellent customer service, get a copy of Customer Service Skills for Success.