Interpersonal Communication Skills Tip
Effective interpersonal communication skills are crucial for delivering excellent customer service.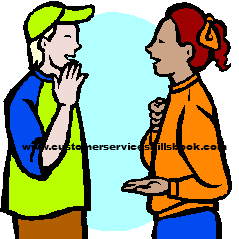 Verbal communication skills are important, but nonverbal communication cues are often more so. Still, while you may potentially gather a lot of information through nonverbal cues received from others, be careful of putting too much emphasis on your interpretation. Why? Because many factors influence the messages being sent by others. For example, nonverbal cues can have different meanings or be interpreted differently based on factors like gender, culture, diversity, education, personal experiences and other factors.
The easiest way to prevent misinterpretation is to always ask someone to clarify their nonverbal cues when you are not sure of their meaning.
For more tips on dealing effectively with customers, get copies of Customer Service Skills for Success and Please Every Customer: Delivering Stellar Customer Service Across Cultures.