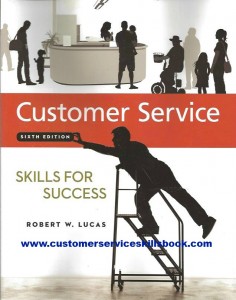 Customer Service Skills for Success 6th by Robert W. Lucas Now Available
The top-selling customer service textbook in the United States, Customer Service Skills for Success by Robert W. Lucas, is now in print from McGraw-Hill. This 6th edition includes a four-color layout with more images to enhance the content and a completely changed graphic appearance.
In the book, readers will find real-world customer service issues and provides a variety of updated resources, activities, and examples for customer service representatives at different levels in an organization. It also includes tips from the author and other active professionals in the industry designed to gain and hold readers' interest while providing additional insights into the concepts and skills related to customer service that is found throughout the book.
The text begins with a macro view of what customer service involves today and provides projections for the future of the customer service profession, then focuses on specific customer service skills and related topics.
Here's what readers will find inside the book:
Part One – The Profession
The Customer Service Profession
Contributing to the Service Culture
Part Two – Skills for Success
Verbal Communication Skills
Nonverbal Communication Skills
Listening Skills
Part Three – Building and Maintaining Relationships
Customer Service and Behavior
Service Breakdowns and Service Recovery
Customer Service in a Diverse World
Customer Service via Technology'
Encouraging Customer Loyalty
This book answers everything from "What is Customer Service?" to "How do I handle a variety of diverse customers in various customer service situations?".
To gain thousands of ideas, strategies and customer service tips for interacting successfully with internal and external customers in any type of customer service environment and deliver excellent customer service, get a copy of Customer Service Skills for Success 6th edition.