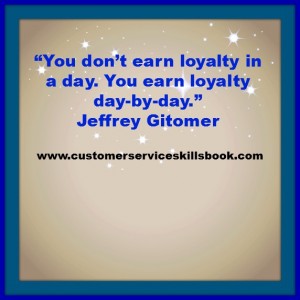 Brand and Customer Loyalty Is Earned Not Given Freely
Consumer behavior and spending habits, customer needs, wants and expectations and customer satisfaction levels change constantly. There can be wide differences in the way that customers perceive an item or event when seeking services and products depending on diversity factors, such as, age, gender, race, ethnic background, and other individual factors.
A key to developing brand or customer loyalty is to hone and upgrade your customer service skills and product knowledge regularly as a customer service representative in order to increase satisfaction and customer retention. By providing excellent customer service, you help ensure continued business and positive word-of-mouth publicity.
One simple strategy to work on is to develop solid customer relations skills (e.g. verbal and non-verbal communication, dealing with diverse customers, and handling service breakdowns and conflict).
For hundreds of ideas on how to create and maintain a customer service environment that allows customers to feel comfortable and enjoy their customer-provider interactions, get copies of Customer Service Skills for Success, Please Every Customer: Delivering Stellar Customer Service Across Cultures and How to Be a Great Call Center Representative.