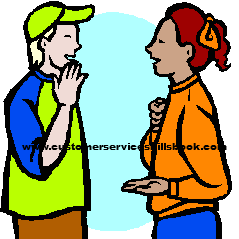 Use Positive Verbal Communication to
Avoid Customer Relationship Breakdowns
Customer service representatives and their organizations spend a lot of time, effort and money creative a positive service culture designed to attract, nurture and retain customers. Because of this, it only makes sense that when you are interacting with your internal and external customers that you take the time to think before you speak in order to avoid saying something or asking a question that might be misunderstood or cause offense.
Sometimes the simplest things can cause problems, especially if someone is already irritated. To avoid creating a negative situation or escalating customer emotions when things are already amiss, choose your wording and the questions you ask carefully.
For example, consider the following technique for positively phrasing questions. Find a way to rephrase any question that you would normally start with "Why?" The reason is that this word cannot be inflected in a way that doesn't come across as potentially abrasive, intrusive, or meddlesome. Don't believe it? Get a recorder and attempt to ask the question "WHY?" in a variety of ways with different voice inflection without sounding harsh, challenging or skeptical.
As with many experiences you have stored in your brain, the origin of negative feelings toward the word why likely stem from childhood. Do you remember when you wanted to do something as a child and were told no? The next word that probably came out of your mouth (in a whiney voice) was "Why?" This was a verbal challenge to the person who was telling you that you couldn't do anything. And the response you probably heard was "Because I said so" or "Because I'm the mommy (or daddy), that's why." Most likely, you didn't like that type of response then, and neither did your customers when they were children. The result of this early experience is that when we hear the word why as a question, it can sound like a challenge and can prompt a negative emotional reaction (blame a flashback to memories for this). To prevent this from occurring, reword your "Why" questions or others that might be perceived as arrogant, rude or challenging.
Instead of                                    Try
Why do you feel that way?           What makes you feel that way?
Why don't you like . . . ?               What is it that you don't like about . . . ?
Why do you need that feature?  How is that feature going to be beneficial to you?
Why do you want that color?      What other colors have you considered?
For additional customer service tips, ideas and strategies on how to more effectively communicate with external customers or co-workers (internal customers) and how to create and maintain a positive service culture, get a copy of Customer Service Skills for Success.