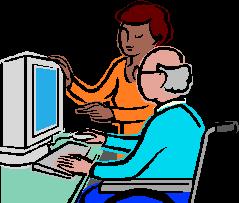 Communicating Effectively with
Customers Who Have Disabilities
When the 1990 Americans with Disabilities Act was passed in the United States, the number of people with disabilities was estimated to be over 43 million. Since then the number of aging societal members has swelled that number to more than 56 million people – over 19% of the population. The impact of those numbers is that more of your customers today and into the future have to deal with sight, hearing, speech and mobility impairments than ever before. These disabilities can create challenges in customer service, communication, and the workplace overall for you and other customer service representatives.
By educating yourself on the needs of people with impairments that reduce ability in the area of seeing, hearing or speaking can aid communication and help build stronger customer management and relationship skills. Through interpersonal communication skills, you are able to potentially improve customer and brand loyalty by enhancing overall customer satisfaction levels.
There are hundreds of pieces of literature and research in these areas available. Plus, each governmental jurisdiction has a multitude of agencies, nonprofit and advocacy groups that provide information. Start by a sound Internet search to identify resources.
For proven customer service ideas and strategies get copies of Customer Service Skills for Success, Please Every Customer: Delivering Stellar Customer Service Across Cultures, and How to Be a Great Call Center Representative. Each of these resources provides sound practices for improving communication and relationship management skills.
Who is Robert C. Lucas?
Bob Lucas has been a trainer, presenter, customer service expert, and adult educator for over four decades. He has written hundreds of articles on training, writing, self-publishing, and workplace learning skills and issues. He is also an award-winning author who has written thirty-seven books on topics such as, writing, relationships, customer service, brain-based learning, and creative training strategies, interpersonal communication, diversity, and supervisory skills.
Additionally, he has contributed articles, chapters, and activities to eighteen compilation books. Bob retired from the U.S. Marine Corps in 1991 after twenty-two years of active and reserve service.
Bob Lucas B.S., M.A., M.A, CPLP is the principal in Robert W. Lucas Enterprises, Inc and an internationally-known author; learning and performance professionals. He has written and contributed to numerous books on the subject of customer service skill training.
He regularly conducts workshops on creative training, train-the-trainer, customer service, interpersonal communication, and management,
and supervisory skills.
Learn more about Bob and his organization at www.robertwlucas.com and follow his blogs at www.robertwlucas.com/wordpress,
www.customerserviceskillsbook.com, and www.thecreativetrainer.com. Like Bob at www.facebook.com/robertwlucasenterprises