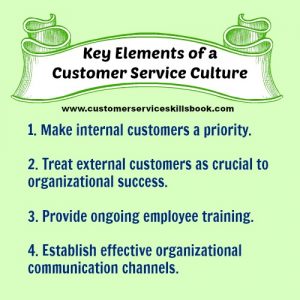 Key Elements of a Positive Customer Service Culture
Managers often talk about the importance of establishing a customer service culture. Unfortunately, employees often do not know what that means because they do not receive training to help them understand their role in the process. This article outlines four key elements of a positive customer service culture.
1. Make internal customers a priority. Internal customers or employees are crucial to the success of any organization. These people are the lifeline of an organization and provide services (e.g. human resources, accounting, security, products, and support services) to one another that allows them to provide the best possible service to external customers. If employees do not feel valued, they likely will not take ownership and responsibility for their role in making sure that external customers receive the exemplary service that they deserve. Some simple ways to help ensure employees feel valued include, ongoing customer service skills, product and service training, up-to-date service technology (e.g. computers, databases, and communication equipment), inclusion in communication, empowerment in decision-making, competitive salary and benefits, opportunities for advancement and overall respect for what they offer and contribute to the organization.
2. Treat external customers as crucial to organizational success. The reality of today's globally competitive business environment is that your customers often lack loyalty. The differentiating factor for successful companies is the stellar customer service that they offer their customers. Pricing and product differentiation are easy to match in many instances. Competition is often only an Internet search away. For these reasons, every employee must own responsibility for making every person with whom they come into contact feel "special" and valued. This is especially true when interacting with customers via faceless technology (e.g. online chat, telephone, text or email).
3. Provide ongoing employee training. Many managers view training as a luxury or expense to be cut rather than a crucial piece of the complex customer service puzzle. Nothing could be further from the truth. Strong customer service skills training is crucial for employees at all levels of the organization. Such training should certainly include at least the following topics:
Operation and functioning of any service technology used.
Organization history.
Organizational product and services familiarization.
Interpersonal communication skills (e.g. verbal, nonverbal and listening skills).
How to interact with all types of customers from differing backgrounds (e.g. gender, culture, race, religion, and various abilities).
4. Establish effective organizational communication channels. Successful organizations have multiple strategies for communication up to and down the strata from executive levels to frontline employees. If everyone in the organization does not know the mission, vision, and values of the organization, they certainly cannot be expected to embrace and personify those elements. If you read about exemplary organizations, you will often find that the people at the top of the chain of command regularly solicit and listen to ideas and suggestions from employees at all levels of the organization. You will also discover that frontline employees know where the organization is headed because they are:
Included in communications via newsletters.
Accessing intranet information postings.
Receive regular updates and attend products, services, and skills training.
Participate in periodic (e.g. quarterly) group meetings with executives. In the later sessions, the executives typically update employees and elicit input, questions, and complaints, then have managers immediately act upon valid points identified.
Ultimately, successful service organizations create an environment in which providing stellar customer service is a strategic initiative. Both internal and external customers are valued for what they provide to the company. They are key elements of a positive customer service culture.
To learn more about making positive impressions on current and potential customers, get copies of Customer Service Skills for Success and Please Every Customer: Delivering Stellar Customer Service Across Cultures.