Partner With Customers When Building Positive Customer Service Cultures
Being a customer service representative can sometimes be a stressful and frustrating job if you work in an organization that does not effectively value and support customers. In such organizations, customer service training and supervisory coaching needed for you to develop the customer service skills to deliver excellent customer service are lacking. Even so, if you adopt a positive attitude of a professional customer service provider, you can effectively contribute to a customer-centric environment in which you and your customers work together for a win-win outcome.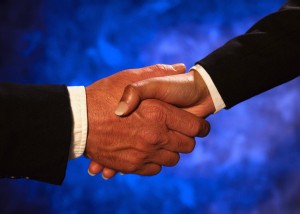 Probably the most important strategy for employees in any organization to adopt in order to create a positive customer-centric service culture is to form a solid relationship with customers. Such partnerships can lead to a meeting or exceeding your customers' needs, wants and expectations. After all, customers are the reason you have a job and the reason your organization continues to exist. With that in mind, you should do whatever you can to promote a positive, healthy customer-provider relationship. This can be done in a number of ways.
Here are a few simple customer relationship-building techniques:
Communicate openly and effectively.
Smile—project a positive image.
Listen intently, and then respond appropriately.
Facilitate situations in which customer needs are met and you succeed in win/win situations helping accomplish organizational goals.
Focus on developing an ongoing relationship with customers instead of taking a one-time service or sales opportunity approach.
If you are looking for additional ideas and strategies on how to create a more positive customer-centric environment that can lead to customer satisfaction and customer retention, get copies of Customer Service Skills for Success.
About Robert C. Lucas
Bob Lucas has been a trainer, presenter, customer service expert, and adult educator for over four decades. He has written hundreds of articles on training, writing, self-publishing, and workplace learning skills and issues. He is also an award-winning author who has written thirty-seven books on topics such as, writing, relationships, customer service, brain-based learning, and creative training strategies, interpersonal communication, diversity, and supervisory skills. Additionally, he has contributed articles, chapters, and activities to eighteen compilation books. Bob retired from the U.S. Marine Corps in 1991 after twenty-two years of active and reserve service.