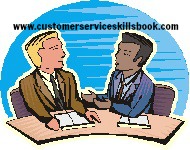 Building Customer Relationships –
Four Crucial Factors That Impact Service Outcomes
Customer relationships are impacted by many factors that begin once a customer and customer service representative or other employee comes into contact with a current or potential customer. These people are either internal customers who work for the organization or external customers from outside the organization, who contact a service professional for assistance or to do business.
Here are four crucial factors that affect customers and service provider interactions which can definitely influence a situation and customer relations.
1. Approach to communication. Whether face-to-face, over the telephone or through other types of technology, the perception that a customer has about the way he or she was greeted verbally, non verbally or in writing can have an immediate impact on whether or not the relationship continues.
Anyone dealing with customers must continually strive to enhance their communication knowledge and skills for dealing with all types of customers. They must also consciously practice effective customer communication skills.
2. Customer service representative demeanor. Most people know or have an expectation of how a service professional should act and what they should do to meet the needs, wants and expectations of their customers. When an employee projects an attitude or leaves the impression that they are just "going through the motions" of providing service and really do not care about the customer or their issue, customers typically pick up on that attitude.
When issues are occurring in the life of the service provider that may negatively impact their ability to deliver the best customer service possible, they should talk to a supervisor and either take some time off or have someone else handle a customer situation. The only way to interact with a customer is professionally and in a can-do manner.
3. Product and service knowledge. Customer service provider knowledge related to the products and services provided by their organization can either fulfill customer needs or inhibit the degree to which they are able to deliver excellent customer service.
Employees should receive ongoing customer service training so that they can handle any situation in which the customer has a question or concern about the organization, products or services.
4. Problem-solving ability. Often service providers are not able to comprehend or analyze information that a customer is providing related to a need, problem or other issues that they have. Cultural, gender or other differences can cause this, or it might be a breakdown in communication ability on either the part of the customer service representative or the customer. In any event, it is crucial that the service provider is trained and skilled in using basic problem-solving skills. Failure to do so can leave to a customer-provider relationship breakdown and lost business for the organization.
For information, ideas and strategies about how to effectively and professionally interact with customers, get copies of Customer Service Skills for Success and Please Every Customer: Delivering Stellar Customer Service Across Cultures.